Less than a month has passed since the government downgraded Covid-19 to a "Class 2" infectious disease, but a lawmaker from the ruling People Power Party (PPP) proposed adjusting it back to a Class 1 disease.
Rep. Kang Gi-yun of the PPP, a member of the National Assembly's Health and Welfare Committee, made such an argument at the committee's meeting on Tuesday.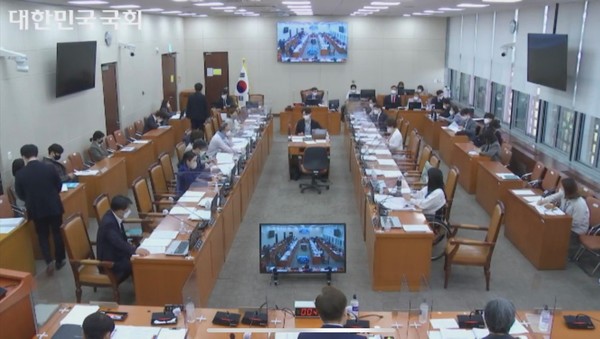 "After the inauguration of the Yoon Suk-yeol government, the government emphasized that the quarantine system would be based on scientific data," Kang said.
The former Moon Jae-in government lowered Covid-19 to Class 2. Still, health experts recently forecast that the Covid-19 caseload and the death toll will increase significantly in June or July due to the spread of new variants.
"In this situation, we should not cause a problem in the quarantine system by lowering the pandemic to Class 2. Instead, we should lift it back," Kang went on to say. He added that he could not understand why the former administration downgraded the disease class when the pandemic did not end.
Kang asked Cho Kyu-hong, the new vice minister of health and welfare, whether it was necessary to readjust the disease class of Covid-19.
Cho, who spent most of his public service at the Ministry of Economy and Finance as a budget expert, said he lacked the expertise to answer the question. Instead, the health authorities should consult with experts and related ministries.
However, Jeong Eun-kyeong, commissioner of the Korea Disease Control and Prevention Agency (KDCA), said "the situation has changed" after two and a half years of the Covid-19 pandemic, and the health authorities have learned a lot about the characteristics of the Covid-19 virus.
The government lowered Covid-19 to Class 2 disease because critical Covid-19 cases fell, and the nation had vaccines and treatments to fight the pandemic, unlike during the MERS and Ebola outbreaks in the past.
"Some people argued the Class 2 disease of Covid-19 still needed seven-day quarantine for those infected with the disease and treatment supports, and we are reviewing it carefully," Jeong said.
Even if the government lifts mandatory quarantine, she added that it is necessary to provide subsidies for Covid-19 treatment.
Jeong also commented on the Yoon government's emphasis on "science quarantine."
"We also carried out quarantine based on science in the Moon government. So it is inappropriate to divide quarantine into 'science quarantine and political quarantine,'" she said.
Copyright © KBR Unauthorized reproduction, redistribution prohibited