Jeil Pharmaceutical said the government added Triferic Inj. (ingredient: ferric pyrophosphate citrate sodium sulfate coprecipitate hydrate) and Triferic Sol., a new treatment for renal disease, to the list of patented drugs. The patent registration allows Jeil to sell it in Korea exclusively.
On Monday, the Ministry of Food and Drug Safety placed Triferic Inj. and Triferic Sol. on patented drugs. The patent is on each treatment's pharmaceutical composition.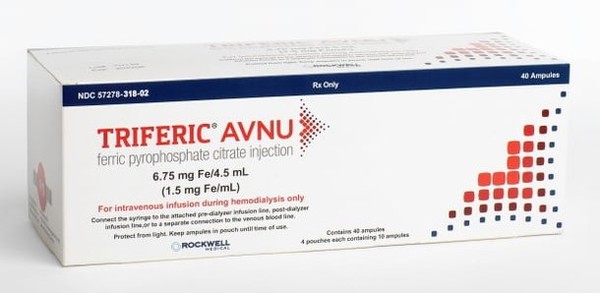 With the drug patent registration, Jeil has the exclusive right to the patent for the composition of Triferic Inj. and Triferic Sol. until Feb. 1, 2034. The patent will prevent a market entry of latecomer drugs with the same ingredient.
Triferic Inj. and Triferic Sol. are iron replacement products developed by Rockwell Medical for hemodialysis patients. The two products received FDA approval in March 2020.
The two drugs surround iron with pyrophosphate to bypass the body's defense system and deliver iron to transferrin, a protein involved in the movement of iron.
This can increase the efficiency of hemoglobin and red blood cell production without an increase in ferritin. If stored iron increases excessively, it can cause cardiovascular diseases or infections.
The patent registration is likely to boost Jeil's Triferic Inj. and Triferic Sol. sales in Korea.
In September 2020, Jeil signed an agreement with Rockwell Medical to seek marketing approval and sell the product exclusively.
The treatment obtained the regulatory nod in early 2022 as iron supplement therapy to maintain hemoglobin levels in adult patients with hemodialysis-dependent chronic renal failure.
Jeil plans to release Triferic Inj. this year. Attention is on whether Jeil will perform well in the renal disease treatment market on its status as the sole distributor of Triferic.
"Conventional iron supplements had a possibility of side effects caused by too much iron," an official at Jeil said. "The new iron supplement will be relatively free from those side effects."
Copyright © KBR Unauthorized reproduction, redistribution prohibited