Coreline Soft said that it would supply AVIEW LCS PLUS, an artificial intelligence-based solution for diagnosing chest diseases, to hospitals in Germany and Belgium. Recently, the company has signed supply contracts with Johanna Etienne Krankenhaus Hospital in Germany and AZ Delta Hospital in Belgium.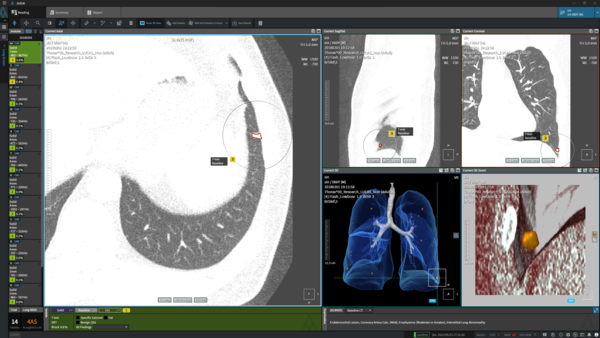 A Coreline Soft official stressed that European references and technological prowess influenced the introduction of the company's solution, which automatically analyzes lung and thoracic-related diseases, at Johanna Etienne Krankenhaus Hospital.
Coreline is the sole software supplier for "Hanse," the German lung cancer screening clinical project, and five other European countries. The company has also solidified its brand recognition in Europe through product development through a joint product agreement with iDNA, including the NELSON team, Europe's largest lung cancer screening clinical trial.
"Europe is an advanced medical market and is active in introducing AI diagnosis solutions regarding the accuracy and work efficiency," Coreline Soft Overseas Business Director Suh Jung-hyeok said. "Based on the trust our company and products have earned among multiple partners, we will do our best to expand our sales across Europe."
AVIEW LCS PLUS is a device that automatically analyzes and quantifies the image data obtained from a single chest computed tomography (CT) scan and provides information about lung cancer and cardiovascular diseases at the same time. The device can also increase work speed and accuracy in various areas, such as disease analysis and diagnosis through AI, treatment plans, and detailed reports.
Copyright © KBR Unauthorized reproduction, redistribution prohibited