After becoming the general manager of Merck Biopharma Korea in 2019, Javed Alam has worked to transform the company into a specialty care leader by responding to unmet needs in the area of rare diseases.
Industry insiders say that despite the huge obstacle of the Covid-19 pandemic, Alam played a central role in turning Merck Biopharma Korea, previously a stable portfolio-oriented company, into one that pursues fresh changes by introducing new drugs.
His biggest blockbuster is immunotherapy, Bavencio, launched in partnership with Pfizer. The treatment has indications for Merkel cell carcinoma (MCC), rare cancer with a five-year survival rate of only 0-20 percent. Alam also expanded the drug's indication to treat urothelial carcinoma last year.
In a recent interview with Korea Biomedical Review, he explained why he decided to transform Merck Biopharma Korea into a specialty care company with short- and long-term goals.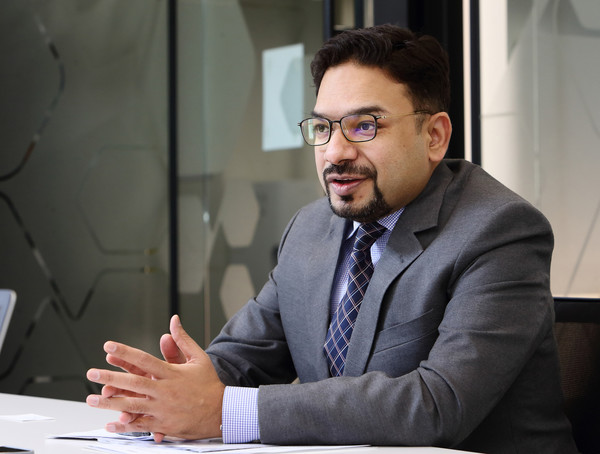 Question: It's been three years since you joined Merck Biopharma Korea. How have you changed the company internally and externally?
Answer: I believe the biggest thing is that we have gone through a time of change for the organization. If I went back three years ago, we were a traditional pharmaceutical company focusing on primary care treatments. However, now we have become a specialty innovator after coming up with a vision to become a specialty innovator in 2020.
Since then, we have reorganized our business into four specialty franchises -- immunotherapy and oncology, neurology and immunology, infertility, and endocrinology.
Q: Many multinational pharmaceutical companies have also recently stated that they are or will become specialty care companies. How does Merck Biopharma differ from other companies?
A: A lot of companies are specialty companies, but for us, specialty truly means coming together as one for patients to help those who are suffering from certain diseases that require a prescription, rare diseases where the needs are unmet, and where we can have a big impact on the patients' lives.
Our specialty care is mostly about rare diseases with a small patient population. We are doing our best to ensure such patients access innovative drugs. For example, we have introduced Bavencio for Merkel cell carcinoma (MCC) indication.
While the population pool is only 10- 20 patients, we believe that it is worth researching and developing the drug if it can improve the lives of these patients.
If innovation is available, we do our best to ensure that those products reach patients in Korea. We are practicing our patient-centered management through various CSR activities as well. We continue to carry out activities such as the "Good Morning Campaign" to support the elderly living alone and the "Nuri Maru Campaign" for vulnerable children.
Q: Merck Biopharma Korea announced 'Specialty Care Leadership' as its new vision through 2024. What kind of efforts and achievements has the company made to reach this goal?
A: Merck's Specialty Care unit covers diseases that require prescriptions, including rare and incurable diseases, difficult to diagnose or cure, and has relatively fewer patients and medical specialists.
In the immunotherapy and oncology business unit, the company has introduced Bavencio, which obtained indications for MCC and metastatic urothelial carcinoma (MUC). We feel very proud of the drug, even if only a few patients may require the treatment. We are currently making efforts to expand the drug's reimbursement for MUC patients.
In the neurology and immunology unit, we have Mavenclad, another unique product that provides long-term treatment effects for multiple sclerosis (MS). Patients only need to take 20 tablets for the first two years, and the efficacy continues for an additional two years.
The response is a lot better than what we expected. Physicians and patients embrace Mavenclad due to the benefit it offers to patients.
For infertility, Merck's Gonal-F and various fertility treatments have contributed to the birth of more than four million babies.
However, when I first came to Korea, I was surprised that the birth rate here was one of the lowest among OECD countries. It was 0.84 percent in 2020, meaning more deaths than births.
We wanted to help with this issue and have recently signed an agreement to participate in the "Gender and Reproduction Consultative Body" to increase awareness of rights to gender and reproduction, and we're very proud to join.
Last month, we also joined the Sexual and Reproductive Health and Rights Council to commit to fertility education and improved public awareness to address a downward trend in the birth rate.
Finally, the endocrinology unit markets growth hormone products Saizen and injection devices, such as auto-injectors EasyPod, and pen-type device Aluetta.
Because most of the patients are young, we have a digital ecosystem to facilitate adherence to patients, such as EasyPod AR, EasyPodTM Connect (web version for doctors), and Growlink (mobile application), which enable doctors, patients, and parents to easily monitor medication records in real-time.
Q: We understand that all four specialty areas are important. Is there any specific area that you focus on?
A: They're all important.
However, there are some goals we want to achieve in the immunotherapy and oncology business unit.
Notably, Erbitux, a head, neck, and colorectal cancer treatment, is up for its second risk-sharing agreement (RSA) renewal this year.
Therefore, it is high on our agenda as we want to make sure that the RSA re-renewal passes smoothly so that the drug can continue to benefit patients.
We aim to receive reimbursement for Bavencio as a first-line maintenance treatment for adult patients with locally advanced or metastatic urothelial carcinoma.
Q: We also understand that the company is negotiating for Erbitux's RSA renewal. Can you comment on how it's going on?
A: Erbitux was the first product to succeed in RSA renewal in Korea, and now we are in the second renewal.
Over 12,000 patients have benefited for seven years, so it's a unique drug that offers a unique benefit.
We are having discussions and cooperating to make sure it remains available to Korean patients.
Q: What are the short-term or mid to long-term goals of Merck Biopharma Korea?
A: We set a goal in 2020 to become a specialty innovator by 2024 and set revenue objectives.
Thanks to a lot of hard work from colleagues, we have already almost achieved all our goals set for 2024.
Now looking into the future, we plan to update our revenue goals and plans to bring innovative products to Korea.
No matter how far we can go, we can always do more.
Copyright © KBR Unauthorized reproduction, redistribution prohibited