Enhanced online communication, prompted by the Covid-19 pandemic, will likely push Korean medical societies to be internationalized, an expert said.
Lee Jong-min, director of international affairs at the Korean Academy of Medical Sciences (KAMS), emphasized the necessity of globalization of the KAMS' member societies in an e-newsletter. Lee is a professor of radiology at Kyungpook National University School of Medicine.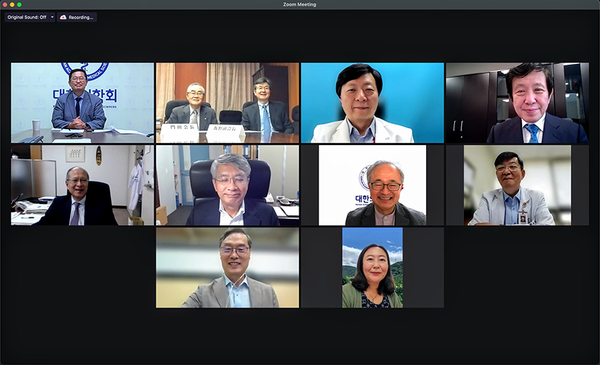 In a medical society's development process, the society can gain international recognition through international cooperation. The globalization of the society is the result of a virtuous cycle derived from this process, Lee said.
The KAMS' mission is to build a good environment where Korean medical services can be recognized worldwide. As a result, Korean physicians can work professionally overseas through internationalizing member societies, advanced medical care, and universal healthcare.
Hosting an international conference is a good start toward internationalization, and a medical society's executives should make efforts for active international cooperation, Lee went on to say.
Because of geographical limitations, national medical societies dominate academic activities, and for the same reason, international cooperation is limited and rigid with time and space constraints, he said.
However, virtual communication could overcome geographical limitations, Lee emphasized.
Most academic conferences will take the hybrid form, going both online and offline simultaneously, he predicted.
"The pandemic during the past two years made online communication more thriving, and I became more comfortable with the online environment and noticed its advantage," Lee said. "It can transcend the space and save time before and after the communication."
As people feel more comfortable and convenient with virtual meetings and conferences, future conferences will go from offline to a hybrid of online and offline, Lee predicted.
"People who need face-to-face activities will attend the event in person, and those with limited time and space or who only need academic content will attend it virtually," he said.
KAMS' member societies should think about how these environmental changes will affect their international cooperation, Lee also said.
"This will accelerate member societies' internationalization. As a result, they should be more agile to internationalize themselves, and the results will come out more quickly," he added.
Copyright © KBR Unauthorized reproduction, redistribution prohibited