The turnover of Korean nurses is more than three times higher than the overall industry rate, according to a survey result released Thursday, the International Nurses Day.
The National Union of Health and Medical Industry conducted an opinion poll on 27,270 nurses at 145 workplaces.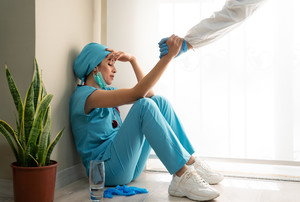 According to its result, most nurses considered quitting their job. More than 80 percent of nurses who worked between three and 10 years considered changing jobs in the past three months.
Nurses' separation rate is actually three times higher than other professions. According to a Ministry of Employment and Labor survey in 2019, the nurses' turnover stood at 15,2 percent compared with 4.9 percent for other occupations.
As to why, 48.9 percent cited "poor working conditions and high labor intensity," followed by low wage levels (27.4 percent), workplace culture and human relationship (5.4 percent), and pregnancy-childbirth-childcare-housekeeping (4.8 percent).
Notably, 64.7 percent of respondents also said Covid-19 drastically aggravated their working conditions.
To improve the work environment, the respondents called for reducing the number of patients per nurse.
About 32 percent said the hospitals should lower the number of patients per nurse by hiring more nurses. Coming next were maintaining a proper workforce considering patients' severity of illness (19.1 percent), abiding by an eight-hour work system (17 percent), guaranteeing day-offs and vacations (16.7 percent), and presenting a regular, predictable work schedule (6.2 percent).
Regarding the appropriate number of patients per nurse, 44.7 percent pointed to six to 10, followed by fewer than five (31.7 percent) and 11-15 (8.1 percent). Currently, a Korean nurse handles 15.2 patients on average.
Respondents in their 20s and 30s accounted for 82 percent, followed by 40sa (14.1 percent) and 50s (3.9 percent).
Most were inexperienced nurses with less than five years of service. Those with a service period of one to five years accounted for 42 percent, followed by those with six to 10 years (28.6 percent) and 11 years or more (21.2 percent).
Three-shift workers accounted for 74.6 percent of the respondents with 20,321, with 86.2 percent of nurses with one to 10 years of service. However, the survey showed that the share of three-shift workers fell to 50 percent among nurses with a service period of 16 years or longer.
"It is necessary to replenish the workforce to an appropriate level and institutionalize the number of patients per nurse to reduce nurses' labor intensity drastically," the union said. "That is the surest way to improve problems at medical fields where nurses must struggle hard physically, mentally, and emotionally, and provide the best service for patients."
Copyright © KBR Unauthorized reproduction, redistribution prohibited