A state-funded research organ has developed a "nasal mask" that can be sprayed. When sprayed on the nasal cavity, the new product reacts with oxygen to remove the virus from the mucosal epithelial cells.
The Korea Institute of Science and Technology (KIST) said Thursday that its technology-funded business, D. R. Nano, has developed "RHINOdeLIGHT," a nasal medical device that eliminates foreign substances entering the nasal cavity, including viruses and bacteria, by responding to light, and received sales approval from the government.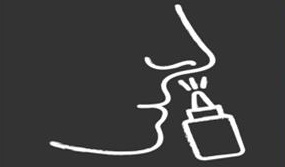 According to KIST, the new product killed more than 95 percent of the A-type influenza virus and staphylococcus aureus in the nasal mucosal epithelial cells. It also proved effective in suppressing the proliferation of the Covid-19 virus by preventing its mutations.
D.R. Nano was founded by investing in source technology to treat wide-area cancer developed by Dr. Kim Se-hoon and his team in 2015.
"As the existing photoreaction products based on a similar theory use a high-power laser beam, they could be used only in limited places, such as hospitals and operating rooms," a company official said. "The new product represents a wide area with just low-powered LED source, and can be used anywhere, including homes and offices."
KIST President Yun Seok-jin said, "The latest achievement is meaningful because our institute has developed an excellent technology and set up a bio venture leading to developing a new medical device that won the regulatory approval."
Yun added that KIST would swiftly respond to social issues and commercialize superior technology.
Copyright © KBR Unauthorized reproduction, redistribution prohibited