Korea Disease Control and Prevention Agency (KDCA) found why the Covid-19 variant Omicron's transmission power was stronger than those of other variants.
On Thursday, the Central Disease Control Headquarters released the results of the KDCA's structural modeling analysis of the spike protein to predict Omicron's transmission strength.
The KDCA checked virus variants' stability by analyzing the virus spike protein's binding and the infected person's cell receptor through a molecular dynamics simulation.
After investigating the structural stability of the spike protein genetic information in virus variants including Omicron, Delta, and Alpha, the KDCA found that Omicron had a stable structure by having the lowest deviation between the three units of the spike protein.
Also, Omicron had the lowest energy value in analyzing the infected person's cell receptor and binding free energy, confirming the structural stability.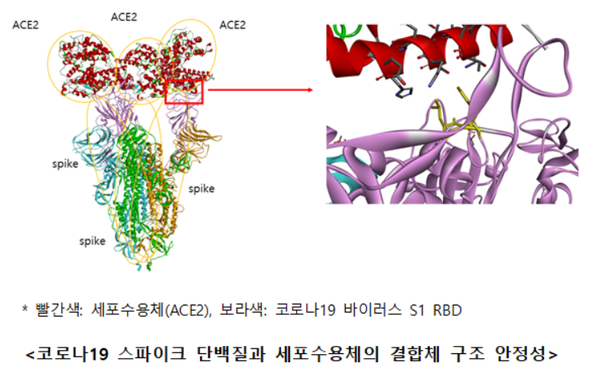 The analysis found that as the Covid-19 virus evolved, it gained stronger stability of the spike protein binding to the human cells. This pushed up the possibility of the virus binding to human cells.
The analysis suggests the possibility of an increase in the transmission power of Omicron due to the increase in cell binding compared to the initial Corona-19 virus.
The KDCA said the Covid-19 virus is evolving to increase the binging force by raising structural stability in infected people. As a result, a new variant with stronger structural stability is highly likely to emerge.
"We conducted the structural modeling analysis jointly with a research team of Chungnam National University, and it will be published in the latest issue of the International Journal of Molecular Sciences," said KCDA Commissioner Jeong Eun-kyeong.
Copyright © KBR Unauthorized reproduction, redistribution prohibited