Korean biotech companies said they would gather at Bio Korea 2022, a health and pharmaceutical industry trade fair, to discuss business strategies in the post-Covid-19 era.
The Korea Health Industry Development Institute (KHIDI) and North Chungcheong Province jointly organized the annual event, which will be held at COEX, southern Seoul, from Wednesday through Friday this week. The Ministry of Health and Welfare supported the fair.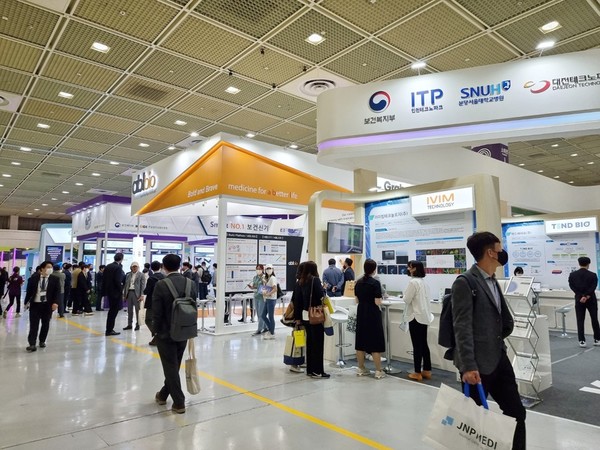 Themed on "Post Covid-19 and Future Innovation Technology," Bio Korea 2022 will offer an opportunity to share changes in the bio-health industry's technology and the future direction after the Covid-19 pandemic, organizers said.
This year, major programs, including a conference, an exhibition, a business forum, and an investment fair, will be held in person.
Over 150 experts from seven countries in biotech and healthcare will present the latest industry trends and technology advancements on 14 topics, including cutting-edge treatment technology, digital health, and tech business, in 21 sessions.
Many researchers and research groups carrying out national R&D projects -- such as new anticancer drug development, vaccine commercialization technology development, global vaccine leading project, and dementia overcoming research and development project -- will participate in Bio Korea 2022 to share the status of development and commercialization of advanced treatments such as immunotherapy, vaccine, regenerated medicine, microbiome, and Alzheimer's disease treatment.
Participants will introduce the industry's shift of its focus on digital healthcare and search for strategies to utilize bio-health data for precision medicine, apply AI to medical services, and enter the digital therapeutics market.
In the business partnering session, multinational firms including Johnson & Johnson, Merck, and Boehringer Ingelheim will meet with Korean companies, including Chong Kun Dang, Hanmi Fine Chemical, and Dongkook Pharmaceutical.
The organizers will run a 24-hour online site to help Korean companies hold virtual meetings with foreign companies.
Companies interested in marketing and market development – such as Lonza, SCM Life Science, and GoQba Technology – will introduce their business models and technology in the BIO LIVE session.
Also, foreign embassies and investment agencies overseas (in Australia, Canada, Israel, Turkey, and Abu Dhabi) will introduce promising companies and how to enter their markets.
The exhibition site will operate a metaverse PR center and national pavilions to allow participants to experience AI, AR, and VR integrated with healthcare services and met excellent biotech companies overseas.
The metaverse PR center will offer simulation experiences for the virtual operating room, diagnosis, treatment, and safety training using AI and VR. Six companies - - New Base, Ingradiant, Looxid Labs, Tetra Signum, Techvillage, and M2S – will participate in the program.
The PR center for pharmaceutical and biotech technology and in vitro diagnostic companies will promote Korean Covid-19 vaccines, R&D technology in diagnostic reagents, raw materials, and products developed to respond to Covid-19. In addition, prestige Biologics, SD Biosensor, and Genomictree will promote their products in this session.
The Invest Fair session will introduce pharmaceutical, biotech, medical devices, and healthcare companies developing innovative drugs and seeking global marketing opportunities. Also, it will promote their business strategies and visions to investors.
Experts will offer presentations and debates on metaverse and bio-health response strategy, mRNA platform and vaccine CMO, new drug development platform licensing out strategy, and microbiome global trends and licensing out strategies. Twenty-one companies, including Kakao Healthcare, ABL Bio, TiumBio, Yipscell, and Quratis, will participate in investor relations briefings.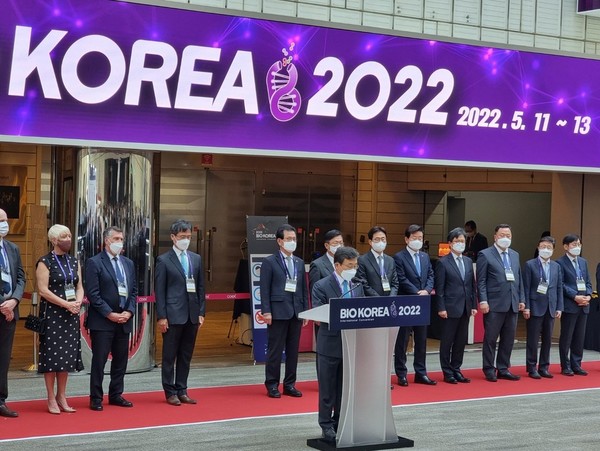 KHIDI President Kwon Soon-man said, "The Bio Korea event has grown together with the Korean bio-health industry for 17 years."
As the time to adapt to the post-Covid-era is approaching, the event could provide an opportunity to share various innovative ideas in the bio-health sector and contribute to enhanced public health and the national economy, he added.
Lee Si-jong, Governor of North Chungcheong Province, said a radiation accelerator is being built in Ochang, North Chungcheong Province, to nurture the biotech industry and construct a life science national industrial complex is underway.
"As the Osong Convention Center, the largest of its kind in the central region of Korea is also in progress, I hope that Bio Korea could be held in North Chungcheong Province in 2024," Lee said.
Health and Welfare Minister Kwon Deok-chul said in a congratulatory remark that Korea was the No. 2 manufacturer of biopharmaceutical products in the world.
He noted that Korean companies produced various Covid-19 vaccines of AstraZeneca, Novavax, and Pfizer and are likely to commercialize a homegrown Covid-19 vaccine soon.
"Although the biotech industry has become a growth engine for Korea, it has many challenges. We should bring up doctors, scientists, and digital healthcare workers, and the government will support this aggressively," he added.
Copyright © KBR Unauthorized reproduction, redistribution prohibited