AstraZeneca (AZ) and Daiichi Sankyo's Enhertu (trastuzumab deruxtecan), the second-generation antibody-drug conjugate (ADC) that showed superiority to Roche's Kadcyla in HER2-positive breast cancer treatment, received U.S. approval for patients with metastatic HER2-positive breast cancer after one prior anti-HER2 therapy.
With the latest authorization, observers said that Enhertu is likely to replace Kadcyla, the first-generation ADC, to treat HER2-positive breast cancer.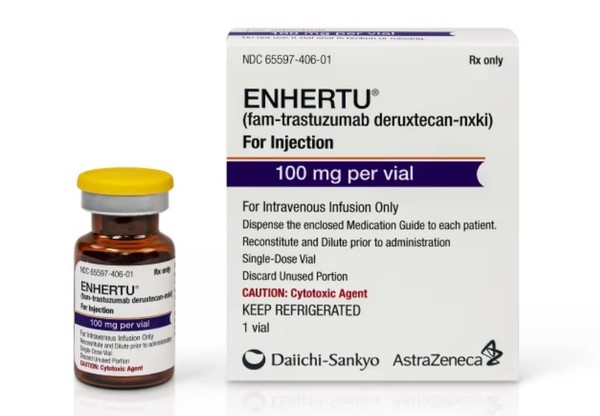 On Thursday, the FDA gave the nod to Enhertu to treat patients with unresectable or metastatic HER2-positive breast cancer who have received a prior anti-HER2-based regimen either in the metastatic setting or in the neoadjuvant or adjuvant setting and have developed disease recurrence during or within six months of completing therapy.
Enhertu is a next-generation ADC using Daiichi Sankyo's original DXd ADC technology. AZ and Daiichi Sankyo are jointly developing and commercializing the treatment.
The FDA approval was based on phase 3 DESTINY-Breast03 study results, which directly compared Enhertu with Roche's first-generation ADC Kadcyla (trastuzumab emtansine).
The study evaluated the efficacy and safety of Enhertu in 524 patients with unresectable or metastatic HER2-positive breast cancer who were previously treated with trastuzumab and a taxane compared to Kadcyla.
The primary endpoint was progression-free survival (PFS) based on the blinded independent central review (BICR), and the secondary endpoints were overall survival (OS), objective response rate (ORR), and duration of response (DoR), PFS based on investigator assessment and safety.
The first interim data of the study was disclosed at the annual meeting of the European Society for Medical Oncology (ESMO) in 2021.
It was also published in the New England Journal of Medicine in late March.
The data showed that 75.8 percent of Enhertu-treated patients had a 12-month PFS, versus 34.1 percent in the Kadcyla group. In addition, Enhertu reduced the risk of disease progression and death by 72 percent compared to Kadcyla. The ORR was 79.7 percent in the Enhertu group versus 34.2 percent in the Kadcyla group.
The safety of Enhertu was consistent with those reported in previous studies. Therefore, there was no new safety of concern, and there was no incidence of grade 4-5 treatment-related idiopathic pulmonary disease (ILD).
Based on the evidence, the NCCN guideline recently recommended Enhertu as a "Category 1 preferred regimen" in the second-line treatment of relapsed, unresectable, or stage-4 HER2-positive breast cancer.
The FDA granted the approval using its Real-Time Oncology Review (RTOR) program and Project Orbis, designed to provide anticancer treatments for patients as soon as possible.
Under the RTOR, the FDA could review the data before submitting a complete approval application.
Project Orbis provides a framework for concurrent submission and reviewing oncology medicines among participating international partners. Five national health authorities from Australia, Brazil, Canada, Israel, and Switzerland collaborated with the FDA on this review.
Many countries in Europe and Japan are reviewing Enhertu based on the DESTINY-Breast03 study, and Enhertu may accelerate a change in the paradigm of HER2-positive breast cancer treatment.
In Korea, the Ministry of Food and Drug Safety is reviewing approval for Enhertu, too.
However, the MFDS review is based on the DESTINY-Breast01 study, which evaluated Enhertu in the third-line or higher treatment in patients with metastatic breast cancer. Thus, approval for Enhertu as the second-line treatment will take more time.
Copyright © KBR Unauthorized reproduction, redistribution prohibited