A research team at Ajou University Medical Center has suggested the possibility of regenerating damaged spinal nerves, which were untreatable until now.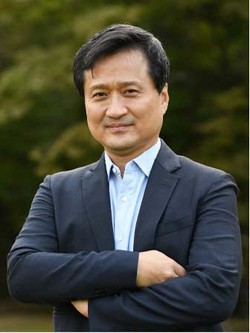 The research team, led by Professor Kim Byung-gon of the Department of Neuroscience and Neurology, injected a hydrogel and an arylsulfatase complex into the damaged spinal cord of a mice animal model. Professors Kim Young-min and Song Soo-chang at the Korea Institute of Science and Technology participated in the study.
As a result, mice treated with the injectable hydrogel and arylsulfatase complex made significantly fewer errors in a grid walk test and showed improved walking ability than the untreated mice.
The research team also confirmed that the axon bundles constituting the neural circuit were regenerated into the tissue matrix formed in the injured spinal cord of the rats injected with the treatment complex, and these regenerative axon bundles newly formed nerve synapses with spinal motor neurons related to gait function.
The research follows a previous study from the team in 2017, confirming for the first time in the world that injection of a temperature-sensitive injectable hydrogel can prevent tissue defects in the damaged spinal cord and form a new tissue matrix.
Notably, Professor Kim's team stressed this follow-up study confirmed that the regeneration of axons into the newly formed tissue matrix is ​​very limited. However, the regeneration of axons was remarkably increased by using the complex added with arylsulfatase.
According to the researchers, arylsulfatase, an FDA-approved treatment for Mucopolysaccharidosis VI, had an inhibitory effect on chondroitin sulfate proteoglycans deposited in the extracellular matrix various extracellular matrix microenvironmental control functions related to fibrosis.
"In neuroscience, spinal cord injury is a big problem," Professor Kim said. "Therefore, it is very meaningful that our research team suggested the possibility of regenerating spinal cord injury through two studies."
The journal Biomaterials published the study results in its April online edition with the title "Dual-functional hydrogel system for spinal cord regeneration with sustained release of arylsulfatase B alleviates fibrotic microenvironment and promotes axonal regeneration."
Copyright © KBR Unauthorized reproduction, redistribution prohibited