Dr. Park's smart toilet monitors user's health status, detects Covid-19
You wake up in the morning, use the toilet, and the urine analysis shows that you need nutrition control and excessive sodium intake. This was a scene from the 2005 film "The Island."
People might think that such a thing could happen only in a movie, but it is happening now. Researchers have developed a "smart toilet" that analyzes urine and stool in real-time and health conditions.
Late professor Sanjiv Sam Gambhir of radiology at Stanford University School of Medicine has been researching related technology since the 1980s. Now, Dr. Park Seung-min, an instructor at the Urology Department of the same school, is continuing Gambhir's work.
Park has been involved in the smart toilet project since 2016, and he is the lead researcher.
Researchers at the Stanford University School of Medicine also developed "lab on a chip," an anal recognition camera. The chip reads a person's anus by identifying each different anal print, just like a fingerprint identification.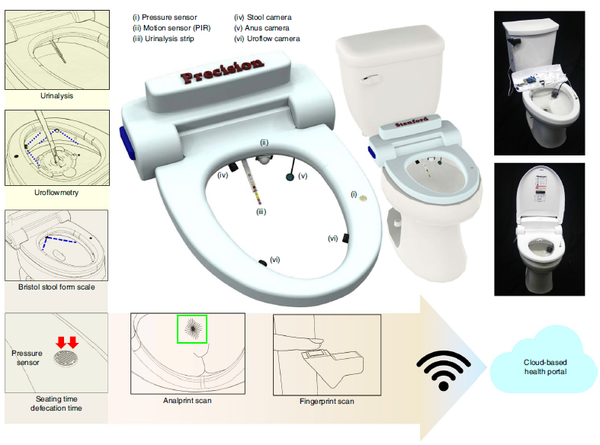 The scientists at Stanford University released their paper in Nature Biomedical Engineering in 2020, saying their smart toilet can analyze urine and stool and provide customized health monitoring.
The paper ranked seventh in Altmetric Score in 2020. Altmetric Score is suggested as an alternative to the citation-based research influence measurement index like Impact Factor. It can measure the degree of research attention by reflecting various diffusion paths of knowledge.
Park founded a company, Kanaria, jointly with Won Dae-yeon, a colorectal and anal surgeon and the head of Songdo Hospital's Pelvic Floor Clinic Center, to commercialize the smart toilet.
Park met Won in 2018 to receive clinical advice and specified information collected by the smart toilet.
The smart toilet is advancing further. It can analyze the amount, frequency, and color of stool and check the presence of blood or mucus. Also, it can monitor Covid-19 infection.
The research team of Stanford University School of Medicine, led by Park, published the related study results in npj Digital Medicine, a partner journal of Nature, on March 30.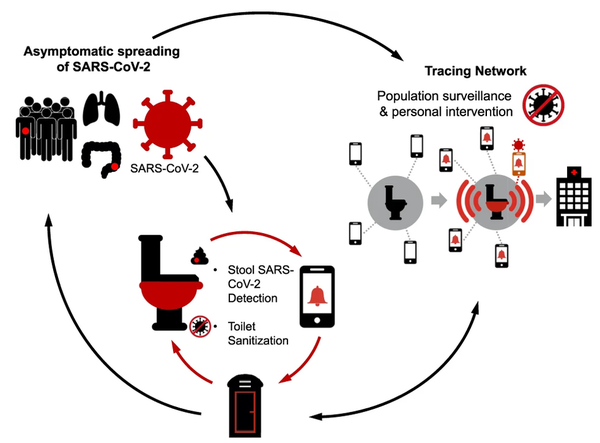 The research team proposed installing a smart toilet in a public bathroom and automatically collecting stool samples to test for Covid-19. They could collect stools only from those who have submitted consent. The test results are reported to an anonymous tracking system within several minutes and provided to individuals if desired.
The research team said using a Covid-19-bathroom platform could monitor Covid-19 non-invasively and help prevent or monitor other infectious diseases such as norovirus and salmonella infection.
In an interview with Korea Biomedical Review, Park said a common use of the smart toilet could use "discarded health information" to promote health and prevent diseases and that this will happen fairly soon.
Park graduated from Seoul National University with a major in physics and earned a Ph.D. in applied physics from Cornell University. After working as a postdoctoral fellow at the University of California, Berkeley, he served as an instructor at the Department of Urology at Stanford University since 2014.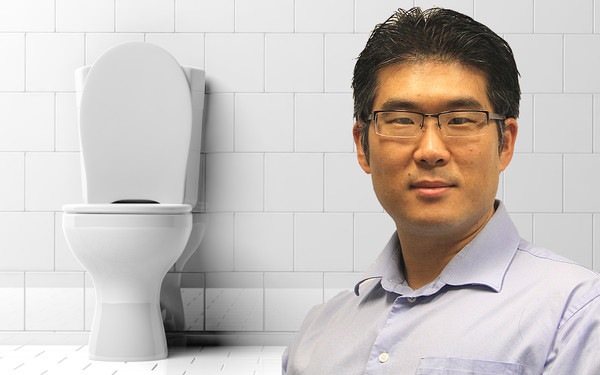 Question: How did you get interested in the smart toilet?
Answer: Before I came to Stanford University, I majored in microfluidics. I had a great interest in blood diagnostics, too. Then, I joined professor Gambhir's research team, which became the driving force to push me where I am. When people say smart device, the first thing that comes to their minds is a smartwatch. But the information that can be obtained with a smartwatch is limited. We can collect urine and feces non-invasively, providing many health indicators. The place where we can collect them is the toilet. We also developed anal recognition technology.
After professor Gambhir passed away in July 2020, I led the smart toilet project.
Q: Was there any difficulties in the project?
A: Because I'm an engineer, I know many technical parts. But I could not identify what kind of information was clinically meaningful. At that time, I contacted a colorectal surgeon who trained at Stanford University. He is Won Dae-yeon, the head of the Surgery Department at Songdo hospital. Won pointed out some parts that I could not think about. He informed me about which information was needed for clinical care, such as bowel movements' frequency and shape. Afterward, we collected and classified data with Songdo Hospital and are repeating the process for machine learning.
Q: We heard that the Stanford University research team's survey of 300 people showed a positive view of using the smart toilet. Can you elaborate?
A: It's not that we provided 300 people with smart toilets and polled their experiences. We explained what a smart toilet was and what kind of information they could get. Then, we conducted the poll. As a result, 52 percent said they were positive about using a smart toilet, and 30 percent were negative. Among the 30 percent, many of them felt uncomfortable collecting their anal pictures. This is sensitive information, so we are going through several tests to ensure that we don't collect unnecessary information. We confirmed that reflection in the toilet water did not expose unnecessary information.
Q: We heard you released a study on monitoring Covid-19 transmission trends using smart toilets.
A: It's about a rapid PCR test that collects samples using a robotic arm and produces results within 15 minutes. We have already developed the technology. But some critics said the idea was too totalitarian. For example, you installed a smart toilet at home, detecting narcotics from your teenage child. Do you have to tell the police? As there can be medical ethics problems, we consulted with experts and wrote a paper, and submitted it to a journal.
Q: You have been studying the smart toilet for quite some time. When can you release it in the market?
A: We will roll out the simplest version this year. We are working with Korean bidet manufacturer IZen. This version can measure the time and the quantity of stool and urine. However, releasing an advanced version that detects complex biochemical markers will take more time because we have to get FDA approval through clinical trials.
Q: Did the Covid-19 pandemic affect smart toilet research and development?
A: As the importance of telehealth grew, our study brought much attention. When there was toilet paper hoarding in the early days of the pandemic in the U.S., people bought more bidet because toilet papers were in shortage. After the lead researcher, professor Gambhir passed away, we could have lost the momentum to continue the research. But the Covid-19 pandemic was a crisis-turned-opportunity for us.
Q: Do you have any more comments?
A: I wish Korea could be more regulation-free. People should have ideas that others call "crazy," and there should be more scientists studying those ideas. At Stanford University, there is an atmosphere of "trying something crazy." But in Korea, it doesn't seem to be the case. It may seem crazy right now, but that absurd idea can change the world. We should be able to do more of that kind of research in the academic world.
Copyright © KBR Unauthorized reproduction, redistribution prohibited