SK Bioscience's recent application for marketing approval for SKYCovione (code name: GBP510), a Covid-19 vaccine, is drawing much attention to when it will win the nod and whether the vaccine will achieve commercial success.
Pharmaceutical industry watchers said SKYCovione's success would hinge on its effect against the Omicron variant and a booster dose's efficacy, as the pandemic is becoming endemic.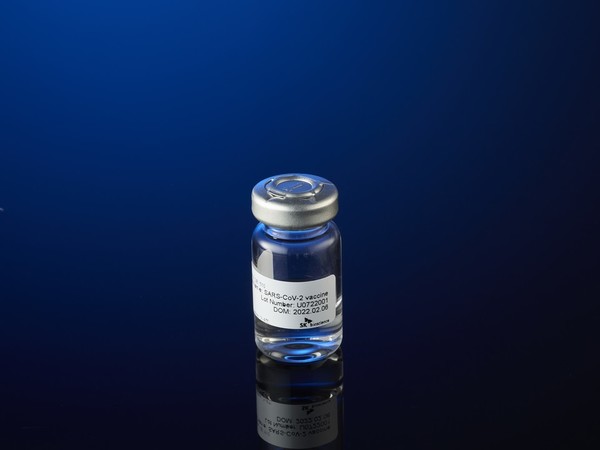 On Friday, SK Bioscience submitted a biologics license application for GBP510, the Covid-19 vaccine candidate, to the Ministry of Food and Drug Safety. The company said it sought accelerated review for the permit, not an emergency use authorization.
If approved, SK Bioscience also confirmed SKYCovione as the name of the first homegrown Covid-19 vaccine. SK Bioscience said that the product symbolizes the company's willingness to lead the global vaccine market with Korea's first Covid-19 vaccine.
Under the review of the MFDS, SKYCovione proved its efficacy and safety in the global phase 3 trials, SK Bioscience said.
SKYCovione demonstrated superior neutralizing antibody titers and antibody conversion rate over AstraZeneca's Vaxzevria, a control vaccine, the company said. Also, those vaccinated with SKYCovione had a cellular immune response in all Th-1 type cytokines ((IFN-γ, IL-2, TNF-α) equal to or greater than that of Vaxzevria.
SK Bioscience emphasized that SKYCovione showed a safety profile similar to the control vaccine and did not report any particular safety issue during trials.
The total incidence of expected local adverse reactions within seven days after two doses of GBP510 was 56.69 percent, versus that of Vaxzevria at 49.2 percent (P<0.0001).
SK Bioscience said it was conducting a clinical study of a booster dose of SKYCovione on people vaccinated with an existing Covid-19 vaccine and another global study of a cross-inoculation booster shot of SKYCovione to make its vaccine widely used in an endemic era.
"We will be able to enter a phase 3 study on people aged between 12 and 17 in the first half," an official at SK Bioscience said. "We also plan to conduct an expansion trial to confirm SKYCovione's preventive effect against Covid-19 variants, including Omicron."
In March, SK Bioscience agreed with the Korea Disease Control and Prevention Agency (KDCA) to supply 10 million doses of SKYCovione in Korea.
After obtaining the local license, SK Bioscience will provide SKYCovione in the global market through COVAX Facility. In addition, the company aims to apply for emergency use listing (EUL) to the WHO and marketing authorizations at regulatory agencies worldwide, including in Europe.
On Friday, the MFDS said it would go through consultations from three groups – the covid-19 vaccine safety/efficacy verification advisory group, the central pharmaceutical affairs advisory committee, and the final review committee – and decide on whether to authorize SKYCovione.
"As with the previously approved Covid-19 vaccine, we plan to proceed with approval and review as quickly as possible. If the submitted data are appropriate, we could grant the license as early as June," the MFDS said.
SKYCovione is a synthetic antigen-based Covid-19 vaccine developed by global organizations and companies close to SK Bioscience.
SK Bioscience and the Institute for Protein Design (IPD) jointly developed the vaccine at the University of Washington School of Medicine. Bill & Melinda Gates Foundation and the Coalition for Epidemic Preparedness Innovations (CEPI) supported the funding.
To enhance immune response and induce high-level neutralizing antibodies, the vaccine also used GSK's adjuvant, AS03.
Copyright © KBR Unauthorized reproduction, redistribution prohibited