There are more than 7,000 types of rare diseases in the world, according to the World Health Organization.
In Korea, a rare disease is defined as a disease that affects fewer than 20,000 people or whose number of carriers is unknown because to diagnose a disease.
The number of Korean patients with rare or intractable diseases exceeded 800,000 in 2016. In reality, over 1 million patients are estimated to suffer from about 1,200 rare diseases.
Rare disease patients often find it difficult to get a diagnosis because there are so many types of rare diseases.
3billion provides rare disease diagnosis services through genetic testing.
Keum Chang-won, who majored in bioinformatics, founded the company in 2016.
"Patients with rare and intractable genetic diseases visit hospitals about eight times on average for five years before being diagnosed with the exact disease name," Keun said in a recent interview with Korea Biomedical Review.
About 30 percent fail to get a diagnosis even after five years.
After spending much time and cost, they find out what their disease is, but many miss the opportunity to get the right treatment.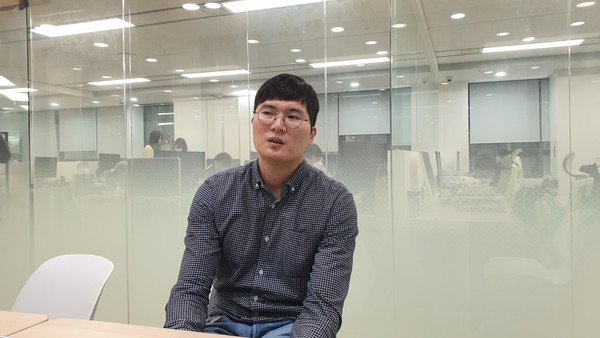 AI-powered diagnosis technology boasts 99.4% accuracy
3billion tests for all known genetic diseases at once. The average number of genetic mutations in one human gene is two or fewer. Conventional genetic testing methods take two to three hours to interpret a mutation in one genetic test. So, it is practically impossible to interpret all the genetic mutations in 20,000 human genes.
3billion established a rare disease diagnosis system using AI. Testing 7,000 genes at once takes only about a month to get the final diagnosis. AI handles the interpretation of 100,000 genetic mutations, taking only five minutes. This process can save time and cost by more than 99 percent to diagnose a rare genetic disease, Keum explained.
According to Keum, one patient's 20,000 genes have 100,000 mutations. Therefore, the number of mutations predicted to damage genes and cause diseases is about 500, or 5 percent.
However, it is important to determine whether they include a pathogenic genetic mutation that can cause disease to get an accurate diagnosis.
"3billion runs an AI model to determine whether there is a pathogenic mutation and whether symptoms of a disease the genetic mutation can cause match the patient's symptoms. Then, we determine the final diagnosis," Keum said.
He was confident that 3billion's technology was the world's best. This is because the company's system, determining whether 100,000 mutations had any pathogenic mutation, is 99.4 percent accurate.
He added that the accuracy and the diagnosis rate are superior to that of the world's leading companies.
U.S. genetic testing company Invitae (NVTA) and German diagnosis company CentoGene lead the global genetic testing market.
However, clinical verifications by hospitals worldwide demonstrated that 3billion's diagnosis rate was 52.4 percent, versus 28.8 percent for Invitae and 36 percent for CentoGene.
In particular, 97 percent of doctors agreed with 3billion's diagnosis results, Keum said.
3billion aims to secure 1 percent of global market share in 5 years
3billion's goal is to secure 1 percent of the global genetic testing market, based on its advantages in cost and performance.
The company provides genetic testing analysis services to 160 institutes in 45 countries.
So far, the company has conducted over 25,000 genetic diagnostic tests.
In 2021 alone, the number surpassed 10,000.
Providing over 10,000 genetic tests annually is similar to Invitae and CentoGene.
"In OECD countries, genetic tests are expected to reach 7 million per year. 3billion aims to conduct 70,000-100,000 genetic tests annually. This will translate into annual revenue of 100 billion won," Keum said. "So, it will not be difficult for us to secure 1 percent global genetic diagnosis market share in the next five years."
3billion to develop AI-based drugs to treat rare diseases
Compared to semiconductors, and biopharmaceuticals, the rare disease diagnosis market is growing rapidly in-vitro diagnostics.
3billion aims to become a global "top-tier" company with technological power that rivals the best players in the global rare disease diagnosis market.
By doing so, it will be possible to collect data from patients with rare diseases around the world, and based on this, the company will become competitive in the development of new drugs for rare diseases and data platform business, Keum said.
3billion have already begun new drug development. It built a new drug development platform based on patients' genome data.
"So far, we have extracted candidate substances that can control five rare genetic diseases. We are near the validation stage," Keum said.
The company will focus on confirming the candidates' function and conducting clinical trials in multiple steps, he added.
"If we successfully reach a pre-clinical trial this year, we will find a patent and a partner for a licensing agreement next year," he said.
After IPO, 3billion's first target is US market
3billion plans to apply for a preliminary review of the Korea Exchange to go public on Kosdaq in the first quarter of next year.
Last year, the company passed the technology evaluation and the regulator's pre-initial public offering (IPO) assessment.
After IPO, 3billion will focus on global business. The company will set up branches in major countries and make efforts to win insurance benefits in each country. The first target is the U.S. market.
"Europe and the Middle East are major target regions. But the U.S. is the largest, so we will focus on the U.S. first," Keum said. "We are reviewing establishing an offshoot in the U.S. and searching for ways to provide insurer-covered services."
Copyright © KBR Unauthorized reproduction, redistribution prohibited