The prevalence of type-2 diabetes among children, adolescents, and youth increased 4.43 times in the past 15 years, a study showed. The rises in prevalence were especially steeper in the 15-19 and 20-24 age groups.
Experts pointed out that the increase of prevalence of type-2 diabetes in young people is not limited to Korea but has become a global trend, advising the nation to make continuous monitoring and study and create a social support system to prevent it.
Professor Chung So-jung of the Department of Pediatrics and Adolescents at Konkuk University College of Medicine and her research team analyzed the changes in type-2 diabetes mellitus (T2DM) prevalence among people aged 30 or less using health insurance claim data between 2002 and 2016. As a result, the prevalence of type-2 diabetes per 10,000 kids, teenagers, and youths jumped from 2.27 in 2002 to 10.08 in 2016, an increase of 4.43 times.
By gender, males jumped from 2.57 to 11.41 persons, up 4.44 times, and females rose from 1.96 to 8.63 persons, up 4.41 times.
By age, 0-4-year-olds grew 0.031 to 0.036 (1.16 times), 5-9-year-olds increased from 0.035 to 0.198 (5.65 times), 10-14-year-olds from 0.45 to 2.84 (6.39 times), 15-19-year-olds from 1.84 to 9.88 (5.34 times), 20-24-year-olds from 2.52 to 14.55 (5.76 times), and 25-29-year-olds from 7.29 to 24.10 (3.30 times), according to the research.
Among 5-14-year-olds, females showed higher prevalence, and among people over 20, males recorded a sharper increase.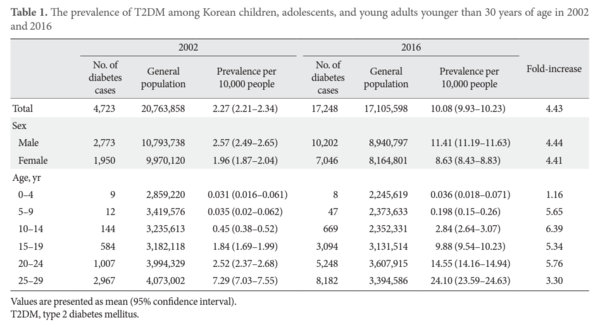 The increase of type-2 diabetes in young people is a global trend.
In Japan, 80 percent of new diabetes patients among children and teenagers are diagnosed with type-2 diabetes. In Taiwan, the comparable rate is 54.2 percent, with a prevalence of 6.5 per 100,000 people. In China, diabetes prevalence among 7-17-year-olds rose from 0.24 percent in 2002 to 0.52 percent in 2012.
"The life expectance of people diagnosed as type-2 diabetes patients in adolescence is expected to be shortened by 15 years compared with those who do not," the research team said. "Type-2 diabetes exerts destructive influence on the most active and productive period of life. Therefore, concerns are rising about its early onset effects on economy and society aside from its negative influence on health."
The team noted that as children move toward adolescence, type-2 diabetes tends to occur more frequently, adding that people experience large physiological changes during puberty, including the temporary drop in insulin.
The report also pointed out that most adolescents with type-2 diabetes live in poor or socially disadvantaged families, saying, "Diabetes specialists need to understand difficulties facing youths suffering from type-2 diseases and consider its influence on patient management."
Besides, the research team pointed to obesity as the cause of the increase in type-2 diabetes.
According to the study, the prevalence of obesity among Korean children and adolescents soared by nine times among men and four times among women from 1979 to 2002. In the school health checkups of 6-18-year-olds, obesity rose from 8.7 percent in 2007 to 15 percent in 2017.
There was a significant increase in the prevalence of obesity among those in their 20s and 30s. For example, from 2009 to 2018, 20-29-year-old men's prevalence of obesity increased from 18.5 percent to 27.5 percent, and that of women in the same age group jumped from 8.6 percent to 15.4 percent.
"We should note the sharp increase in the prevalence of type-2 diabetes among the children and teenagers of low-income families," the team said. "Also, considering the steep rise in the prevalence of type-2 diabetes in the population below 30, obese children and those with diabetes risks should receive education about the disease and actively respond to health screening."
Studies on type-2 diabetes among children and adolescents are rare, and screenings are insufficient.
"It is important to monitor type-2 diabetes among children and adolescents, including continuous trend analyses," the report said. "To prevent type-2 diabetes in the early phase, conducting continuous studies and preparing social support system is essential."
Other experts also called for more attention to preventing type-2 diabetes among children and adolescents.
"It is crucial to manage obesity in children and adolescents to keep them from growing fat when they are very young," said Professor Kim Dae-jung of the Department of Endocrinology and Metabolism at Aju University College of Medicine in a telephone interview with Korea Biomedical Review on Wednesday. "Mainly, parents and schools should play their role, educating children into managing their health."
Professor Kwon Hyuck-sang of the Department of Endocrinology and Internal Medicine at Yeouido St. Mary's Hospital also said, "The number of obese patients and those with metabolic syndromes is also increasing among children and teenagers. Everybody knows prevention is necessary, but policymaking falls short of implementing it."
Korea Diabetes Association (KDA) Chairman Won Kyu-jang pointed out that teenagers do not exercise while exposed to Westernized dietary habits and high-calorie menus.
"A bill on diabetes in children and adolescents was submitted to the National Assembly last year and the parliament is holding a series of public hearings," he said. "We are also trying hard to publicize the risk of diabetes in young people."
The research result was published in the latest issue of Diabetes & Metabolism Journal (DMJ), the official journal of the KDA.
Copyright © KBR Unauthorized reproduction, redistribution prohibited