Bayer, long a household word in cardiovascular diseases and women's health, is distinguishing itself in new blockbuster candidates and novel platforms while adding to its traditional strength.
For instance, the global pharmaceutical giant is undergoing crucial changes by replacing its current blockbusters, including Xarelto, with next-generation products, such as Nubeqa, according to a top company official responsible for the pharmaceutical business.
Bayer has also continuously expanded its R&D capabilities to add more pipelines in new modalities, including cell and gene therapies.
The company has already shown some progress, expanding its presence in the oncology field by launching three new drugs over the past five years during a global media briefing in February. Based on this success, the company announced its intention to develop next-generation CAR-T therapy to fight solid cancer.
To obtain deeper and detailed information concerning the company's goals, Korea Biomedical Review met with Stefan Oelrich, Bayer AG's President of the Pharmaceuticals Division.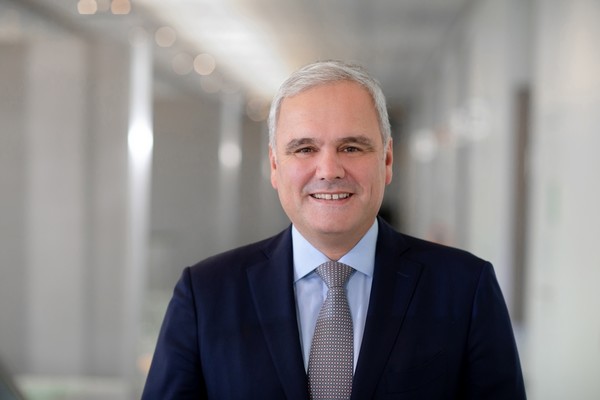 Question: Bayer has been a global leader in cardiovascular diseases and women's health. However, we understand that the company is changing to usher new innovative drugs into the market. Which therapeutic areas does the company plan to focus on in the future?
Answer: Yes, we have a long-lasting leadership in cardiovascular diseases and women's health. Bayer will continue to build up its strength in these areas in the future.
In the CV area, we have strong late-stage pipelines of noble innovations such as Karenda and Verquvo. We also plan to introduce Asundexian, a noble anticoagulant, by 2026. These broad arrays of advanced cardiovascular medicines should give us continued growth.
It is a little bit more difficult to come up with strong innovations in women's health. The reason: The standard care of contraception is very high, which has been our strength for many years.
However, with Elinzanetant, a drug treating menopausal symptoms, we believe that we can address an area with high demand, especially for women who don't want to treat menopausal symptoms with hormone replacement therapy.
The company also aims to become a global top-10 player in oncology.
Nubeqa, a treatment for prostate cancer, will be a cornerstone to reach our ambition. Its peak sales will be more than 3 billion euros on the heels of very strong study results in the metastatic hormone-sensitive prostate cancer setting that we published recently.
The results add to the strong evidence we already have with non-metastatic castration-resistant prostate cancer.
We believe that we have a new potential standard of care in one of the most attractive oncology segments.
In the long term, we have pivoted to addressing breakthrough scientific solutions.
These days, the knowledge of biology is increasing explosively, and untreatable diseases are becoming potentially treatable or even curable. For example, we believe gene therapy can replace a gene no longer work in the body and completely restore its functions.
Bayer is recognized for having one of the most advanced cell and gene platforms globally.
We have a total of seven gene therapy clinical projects and are targeting both monogenetic diseases and broader genetic diseases, such as heart failure and Parkinson's disease.
Regarding Parkinson's, the company is cooperating with BlueRock, a cell therapy company, to develop regenerative approaches by rebuilding brain cells in the human body by injecting living cells.
Q: Bayer has been focusing on growing its cardiovascular market. In Korea, Xarelto led the new oral anticoagulant (NOAC) market, but its patent expired last year, and the drug faces generic challenges. Do you think that the next pipeline, such as Verquvo and Kerendia, can replace Xarelto?
A: Kerendia has more than 1 billion euro sales potential, and Verquvo has more than 500 million euro sales potential. These are not the only products we have. The company expects to launch Asundexian in a few years.
Concerning Karendia, there are unmet needs from more than 160 million diabetes patients suffering from kidney disease.
We can solve this matter and believe that Karendia will potentially have a foundational treatment for those patients.
As we get accepted by treatment guidelines across the world and receive a recommendation for use in the early stage of kidney failure, I believe we have the potential to reach more than 1 billion euros in sales. Therefore, I am very optimistic that Kerendia will be a major product.
We also expect to launch Asundexian by 2026 and conduct phase 3 trials this year.
The company will present the phase 2 trial results of the treatment at the upcoming American Congress of Cardiology.
Q: You also mentioned that Bayer would focus on cell and gene therapy. However, various competitors have launched their cell & gene products, such as CART-T. We wonder if Bayer has its own differentiated strategies as a latecomer in the field of cell and gene therapy.
A: First, let me correct you. I don't think we are a latecomer in this game. Ask Bio, a subsidiary of Bayer, has been a leader in bioleaching and gene therapy for the past two decades.
Some of the products launched by our competitors, such as Roche and Novartis, use technologies invented by Ask Bio, and we receive royalties in some cases. Therefore, I would not consider us a latecomer but a trailblazer in the area of cell and gene therapy.
We have some of the most renowned scientific capacities worldwide working for us now as we have very attractive clinical-stage development pipelines.
The breakthrough scientific solutions that I have mentioned earlier, such as treating Parkinson's patients with living cells, have never been done in the past.
However, Bayer has performed such studies with leading medical experts in several hospitals worldwide and provided these groundbreaking therapies to patients.
While we do have a program partner for CART-T, we have also focused on cell and gene therapy in areas outside the oncology, such as using regenerative therapies.
Major developments include restoring brain and heart functions and treating blindness.
Regarding vision treatment, we are in preclinical trials for some forms of blindness caused by a lack of functioning cells back of the eyes.
We believe that by replacing those cells in those patients, we can restore the patient's vision. If the preclinical trial is successful, we expect to go into inter-patients in the next two or three years.
Q: Has the ongoing Covid-19 outbreak affected Bayer's pursuit of developing these treatments?
A: The ongoing pandemic has disrupted our business at all levels as we have a lot of therapies that rely on patients visiting a hospital to get treatment, such as radiology, ophthalmology, and women's health business. It was quite a disruptive event, especially for our 2020 sales.
However, we've seen that we can leverage digital channels to relieve some of the disruptions. So while the traditional channel -- visit and explain -- is applicable, we also managed to add digital channels to better connect with our customers and patients.
The channel change also required us to shift to managing multiple channels at the same time.
We are trying to expand our digital channel into the research and development area. Therefore, even though the pandemic disrupted our business, it also accelerated innovation.
Also, we see the digital tools be more efficient and faster as we perform clinical trials and select the right molecules in research labs.
Q: As the head of the pharmaceutical business for Bayer, what are the merits of Korea's drug market as you see it? Could you tell me about Korea's position in Bayer?
A: We've been in Korea for more than 60 years now. In the whole Asia-Pacific region, Korea is one of the largest markets.
Korea has an outstanding healthcare infrastructure and high-quality healthcare providers, driving the pharmaceutical industry's growth.
That is why Bayer runs many clinical types of research in Korea, Australia, Japan, and China.
I should add that Korea has a well-established and functioning healthcare system.
Copyright © KBR Unauthorized reproduction, redistribution prohibited