Memorial Sloan Kettering Cancer Center in the United States has become a leader in cancer treatment by collecting cancer-related clinical information through its oncology knowledge database – Oncology Knowledge Base. The OncoKB reportedly has data on the clinical and biological effects of 682 cancer-related genes and more than 5,600 genomes.
Korea has a similar medical institution, collecting genomic information linked to clinical information in one place – the Seoul National University Hospital. SNUH, which opened the "Department of Genomic Medicine" by integrating its Precision Medicine Center and Rare Diseases Center, has established the "SNUH Bio Portal" by drawing together various cancer and genomic data accumulated within the hospital.
Accumulated clinical data at the two centers have made it possible, according to Professor Park Kyong-soo, director of the Department of Endocrine Internal Medicine, who also leads the Department of Genomic Medicine.
Korea Biomedical Review met Professor Park and Professor Chae Jong-hee of the Department of Pediatrics and Adolescents, who lead Korea's genomic medicine, to hear about the opening of the Department of Genomic Medicine and its role, and the future operational plan of the SNUH Bio Portal.
"The Department of Genomic Medicine will provide personalized treatment for those been excluded from the existing medical system and in areas where sufficient treatments have not been made," Professor Park said. "Based on genomic medicine and big data, we will practice precision medicine in wide areas, such as cancer, rare diseases, and chronic diseases."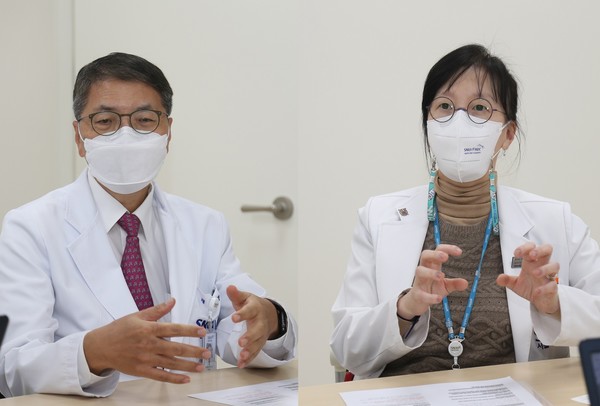 Question: SNUH has established the Department of Genomic Medicine for the first time among Korean hospitals. What are the reasons for its establishment?
Park: We had the Department of Genetics a long time ago. However, it didn't work at all. All it did was to study information, including genomics, by launching a bio-mark center at Medicine and Life Research Institute. After this, the hospital established Precision Medicine Center and Rare Disease Center, beginning to apply genomic medicine and precision medicine to clinical practices actively. However, there were not many doctors who could interpret genomic analysis results brought by patients, although we said we were implementing precision medicine. That was because we had failed to train physicians properly except for some oncologists. How could they do it as they couldn't learn it at medical school? So, I thought it necessary to foster manpower systematically and conduct research in line with that. Unlike clinics and centers, medical departments do not stop at simple treatments. It should have three elements of treatment, education, and research.
Question: How is the department organized, and how will you operate it?
Park: The department systematically conducts genomic tests and treatments, which had been done sporadically. To this end, it has opened five clinics – undiagnosed rare disease clinic (for children and adults), prenatal and pre-implantation genetic test clinic, family endocrine metabolic disease clinic, genetic counseling clinic, and family cancer clinic. We plan to increase clinics gradually. One of our department's advantages is that it can receive supports manpower specializing in genetic disorders and other similar areas. The department has five professors specializing in internal medicine, pediatrics and adolescents, neurology, and diagnostic test medicine, one fellow, and three Ph. D, making it possible to conduct interdisciplinary treatment. Not one doctor but a group of specialists see a patient visiting the clinic.
Question: Interests in genomic medicine are mounting, but it remains somewhat unfamiliar even to medical professionals. Notably, in the case of rare genetic diseases, the time of exact diagnosis can vary depending on the first doctors patients meet. Therefore, the education of medical workers must be essential.
Park: Yes, indeed. For instance, at SNUH, each department holds academic meetings, such as the Internal Medicine Department's "medical grand round, and the Neurology Department's "neurology grand round," We attend these departmental academic meetings once or twice a year, showing them patient cases and telling them proper approaches. Besides, our department periodically holds "genomic experts' advisory meeting," in which doctors put up patient cases, and genomic medicine professors and other interested people gather and discuss various issues, including genetic test methods, result analysis, and decision on modification.
Chae: Genomic experts' advisory meetings can be regarded as an academic gathering where the Department of Genomic Medicine plays a central role, organizing and telling new findings, like private tutors. The meeting is divided into cancer and non-cancer areas where SNUH doctors also make a consensus.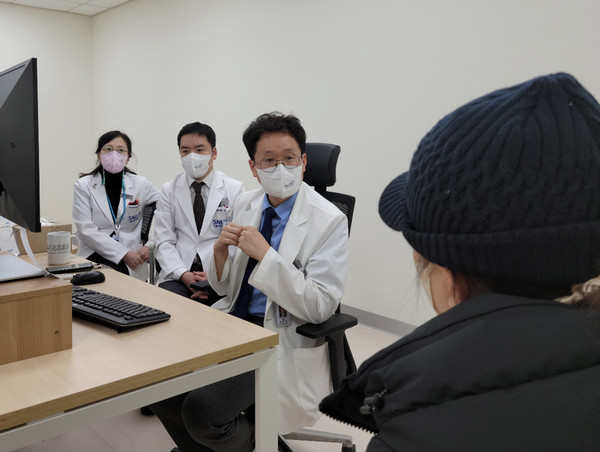 Question: The establishment of the Department of Genomic Medicine has led to integrating the Precision Medicine Center and Rare Disease Center.
Chae: The Department of Genomic Medicine is gathering all the capabilities with SNUH related to genomic medicine and precision medicine. Many professors are conducting personal research based on genetics. However, as they move within their respective departments, it is not easy to bring all the capabilities together. Our department plays a central role in that process.
Park: Before this department was established, SNUH had operated Precision Medicine Center and Rare Disease Center as the research-oriented hospital. Then we found every department had people conducting research based on genomic medicine. When we brought their data together, the volume was enormous. So, we thought that if we gather them all and connect them to patient data, we could know, for instance, people with A mutation had received which treatments before and their responses. That's why we decided to establish the "SNUH Bio Portal." Should I say it is the SNUH version of "OncoKB" at Memorial Sloan Kettering Cancer Center? The U.S. hospital has become a global institution after gathering various information on cancer through the OncoKB. SNUH spent 5 billion won ($4.2 million) to establish the SNUH Bio Portal. We have already prepared a module and aims to complete it in two years.
Question: Do you plan to open data at SNUH Bio Portal to researchers at other hospitals?
Park: Of course, we plan to open them to other hospitals. There is no reason to monopolize it. Therefore, we are preparing to make the portal run smoothly even if external data enters it, considering flexibility and scalability. However, other hospitals should also put data in SNUH Bio Portal. Then, the total national data can grow tremendously.
Chae: Genomic information has been concentrated in the research domain. However, it can have significance as evidence only when the existing genomic information is upgraded whenever patients' clinical features change. We at SNUH plan to undergo the verification process. We will decide whether we can expand it after confirming accumulated data. That also suffice for the purpose of SNUH as the national central hospital.
Question: Many institutions analyze genomic information. What are your suggestions for them as genomic medicine experts?
Chae: One should not think the analysis of genomic information is the end. Many applications interpret genomic information using computers and make diagnoses. However, people majoring in genetics and genetic engineering jump into this area without proper training, some very troublesome could occur. Most genomic information contains bad news. So, if untrained people are involved, they can mistake normal cases for genetic diseases, breaking up entire families.
Park: One should not judge based on only information without proper training. Only well-trained people can discern significant information from insignificant ones. They can make correct diagnoses only when they know if there's pathological importance.
Question: Do you see any need for changing policy or system?
Chae: It is urgent to improve perceptions about genetic counseling. Genetic counseling is a prerequisite in the treatment process of rare diseases but has won no recognition for its need. If the need for genetic counseling is recognized, it will become possible to get insurance benefits.
Park: Genomic tests are expensive and subject to abuses, requiring a cautious approach. One can't say you can't take too many tests because unknown genetic diseases can be found and treatments developed in the course of tests. That explains the importance of pursuing a balance. I think it is the role of the Department of Genomic Medicine to set up a principle in conducting which tests on which patients, and in which cases, and will try to play the role.
Copyright © KBR Unauthorized reproduction, redistribution prohibited