SK Biopharm finished recruiting patients for a phase 3 trial of epilepsy drug cenobamate in Korea, China, and Japan, stepping closer to the Asian epilepsy treatment market entry, industry sources said.
On Thursday, the sources said SK Biopharm completed patient enrollment for the phase 3 trial of cenobamate (U.S. brand name: Xcopri) recently in Korea, China, and Japan.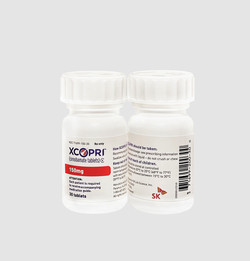 Earlier, SK Biopharm said it would recruit 540 patients aged 18 or older who have partial seizures in the three Asian countries. According to the Ministry of Food and Drug Safety, 110 Korean patients participated in the SK Biopharm's cenobamate trial.
SK Biopharm obtained FDA approval for cenobamate in November 2019 and released the product in the U.S. and Europe consecutively. The company has expressed the will to enter the Asian market with cenobamate. It built a business partnership in Japan and established a local subsidiary in China, customizing strategies in each market.
In October 2020, SK Biopharm agreed with Japan's Ono Pharmaceutical to license out cenobamate for 578.8 billion won. The agreement includes transferring the right to develop and commercialize the drug in Japan. After SK Biopharm conducts a local phase 3 study, Ono Pharmaceutical will handle the product development and licensing procedure.
In November last year, SK Biopharm and Shanghai-based investment firm 6 Dimensions Capital jointly set up Ignis Therapeutics, a drug company specializing in the central nervous system (CNS).
SK Biopharm transferred rights over six CNS pipelines, including cenobamate to Ignis Therapeutics, obtained a $150 million stake, and received $20 million in an upfront payment.
The company is also seeking to expand the indication of cenobamate for partial seizures in children. Cenobamate is authorized as the adult treatment for partial seizures in the U.S.
SK Life Science, a U.S. subsidiary of SK Biopharm, conducts a trial in pediatric patients.
The company began the phase 3 study in the U.S. for children aged between two and 17 with partial seizures.
On Wednesday, SK Bioscience received the regulatory nod for a phase 3 study in Korea. The study aims to enroll 140 Korean patients, and it will take place in six medical institutions, including Seoul National University Hospital and Severance Hospital.
SK Biopharm's consolidated sales recorded 418.6 billion won last year. Operating income posted 95.3 billion won and net income, 83.4 billion won. The U.S. revenue of cenobamate posted 78.2 billion won last year, surging six times from a year earlier.
The company plans to release cenobamate (European brand name: Ontozry) in major European countries such as France, Italy, Spain, and Switzerland, as well as Iceland, Norway, and Liechtenstein, which signed FTA with Europe.
Copyright © KBR Unauthorized reproduction, redistribution prohibited