Myongji Hospital said Wednesday that it would transfer know-how on responding to infectious diseases to medical professionals from developing countries.
The hospital's Overseas Development Assistance (ODA) Business Corps held a ceremony to welcome foreign medical workers enrolling at the "Lee Jong-wook Fellowship Course for Experts Responding to Infectious Diseases," designed to strengthen the ability to develop countries, at Myongji Hospital in Gyoang, Gyeonggi Province, on Monday.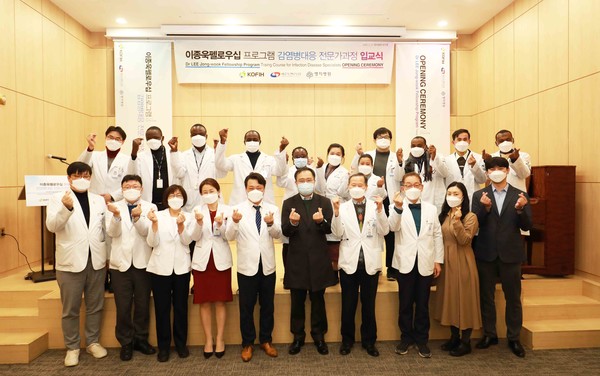 The Lee Jong-wook Fellowship Program is the Official Development Program named after the late Dr. Lee Jong-wook, who served as the sixth secretary-general of the World Health Organization, which invites medical professionals from developing countries to Korea and train them.
Myongji Hospital established its ODA Business Corps in October to launch ODA projects for developing countries. It has since won projects orders for the Lee Jong-wok Fellowship Program from the Korea Foundation for International Healthcare (KOFIH) and planning and surveying projects from the Korea International Cooperation Agency (KOICA).
Through the seven-week training program, the hospital will transfer medical skills to treat infectious diseases and know-how in responding to infectious diseases accumulated from its experiences in fighting against new influenza, Middle East Respiratory Syndrome (MERS), and Covid-19.
After completing the program, Myongji Hospital professors will visit the countries as academic advisors to evaluate how the learnings are put into action and provide additional education.
Twelve people were initially scheduled to participate in the ongoing course, but three could not enter the country because of changes in Covid-19 quarantine rules. The three will participate in the next session, which will begin in May with 23 medical workers from Ghana, Gabon, Mongolia, Myanmar, Uzbekistan, and Cambodia.
"I hope the foreign medical workers will obtain ability, international viewpoints, and collaborative skills as exerts of responding to infectious diseases from Myongji Hospital, which has made excellent responses to Covid-19," said Ahn Kwang-soo, secretary-general of KOKIH, during the entrance ceremony.
Myongji Hospital Chairman Lee Wang-jun said, "We will provide active support for the trainees through our excellent teaching staff, including Professor Choi Kang-won, who introduced infectious disease medicine in Korea for the first time, who are working in the frontline of the Covid-19 combat."
Representing the trainees, Muiga Toni from Uganda also said, "We appreciate that Myongji Hospital gives us opportunities to learn theories and field experiences. In addition, we will learn and practice teachings from renowned mentors and contribute to our countries' medical development and infectious disease responses.
Copyright © KBR Unauthorized reproduction, redistribution prohibited