LAS VEGAS, Nev. -- Changes in medical consumption brought about by the Covid-19 pandemic will continue in the future, as receiving medical care and health management services at home instead of hospitals is rapidly becoming a trend.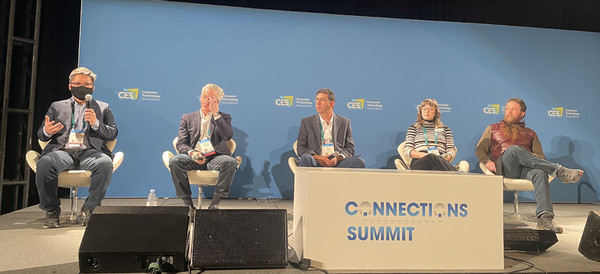 Such views came at the "Health at Home: Meeting Needs of Consumers" conference during the 2022 Consumer Electronics Show in Las Vegas, Nev., which opened on Wednesday (PST).
CEOs of healthcare companies who attended the conference said that the change in medical consumption has already begun, and it is difficult to go back to the old days.
According to research firm Parks Associates, in the second quarter of 2019, before the Covid-19 pandemic, telemedicine accounted for only 15 percent of treatment in the U.S. However, the figure has increased to reach 41 percent in the second quarter of 2020 and 64 percent a year later.
"Health is a habit, and people should be able to manage their health at home," said Jean-Marc Druesne, CMO of the French-based health-tech company Baracoda. "A European survey found that 90 percent want to improve their health management habits at home and 80 percent want to share their health information with healthcare professionals."
Israeli healthcare company Essence CEO Yaniv Amir also said, "Due to Covid-19, more and more people are staying at home to receive healthcare, and the related demand has also increased. They want to receive medical services at home using telemedicine such as remote monitoring, and this is the trend these days."
Amir said that his company started as a security technology but has expanded into healthcare.
"When security and healthcare are connected, there are many synergies," Amir said. "For example, the security sensor can check what time an elderly homeowner wakes up, eats breakfast, and goes to the gym."
Due to the Covid-19 outbreak, older adults cannot go to the facilities they normally use, and their only solution is to use this technology, he added.
Amir pointed out that the governments are also easing some regulations on telemedicine, and doctors can use several devices to see patients, saying, "These deregulation measures are likely to be maintained for the time being."
Ian Bryan, senior director of strategic partnerships at Global Association for the Home Technology Industry (CEDIA), said, "The Pandora box has been opened. Telecommuting has increased, and people are spending a lot of time at home and paying more attention to personal health after the Covid-19 pandemic, and this trend will continue."
In the future, 25-35 percent of all office workers will work from home or take on a hybrid work form. As people spend a lot of time at home, it has become important to take care of their health at home, Bryant added.
Michael Ham, CEO of the U.S.-based RePure, pointed to the trend toward a more home-oriented life.
"Builders had increasingly turned their attention to the environment before the Covid-19 pandemic, but such attention has soared further since the pandemic," Ham said. "A survey of homeowners showed that they are willing to spend an additional $60,000 to graft healthy living technologies to their homes."
Copyright © KBR Unauthorized reproduction, redistribution prohibited