'Better treatment of bone specialists needed to resolve surgeon shortage'
Until the mid-20th century, there had been no concept of surgery in fractures.
People called fracture "fracture disease" because many complications occurred in treating fractures, such as pressure sores, infections, and even pneumonia. In the 1950s, a group of Swiss orthopedists formed a study group and devised a method of anesthetizing patients, cutting off the flesh to realign bones, and fixing them with metals. That's how the world's first trauma center was born, called the AO Trauma.
Even today, there are not many surgeons and hospitals worldwide specializing in fracture – a treatment far more complicated than just setting bones. And it is a little more so in Korea. The nation is recognized as an advanced country in many areas, including healthcare. However, it has a long way to go in fracture treatment before winning such a title.
So it comes as somewhat surprising that foreign surgeons, including Americans, compliment a Korean orthopedist's new operational techniques and ask for surgery videos.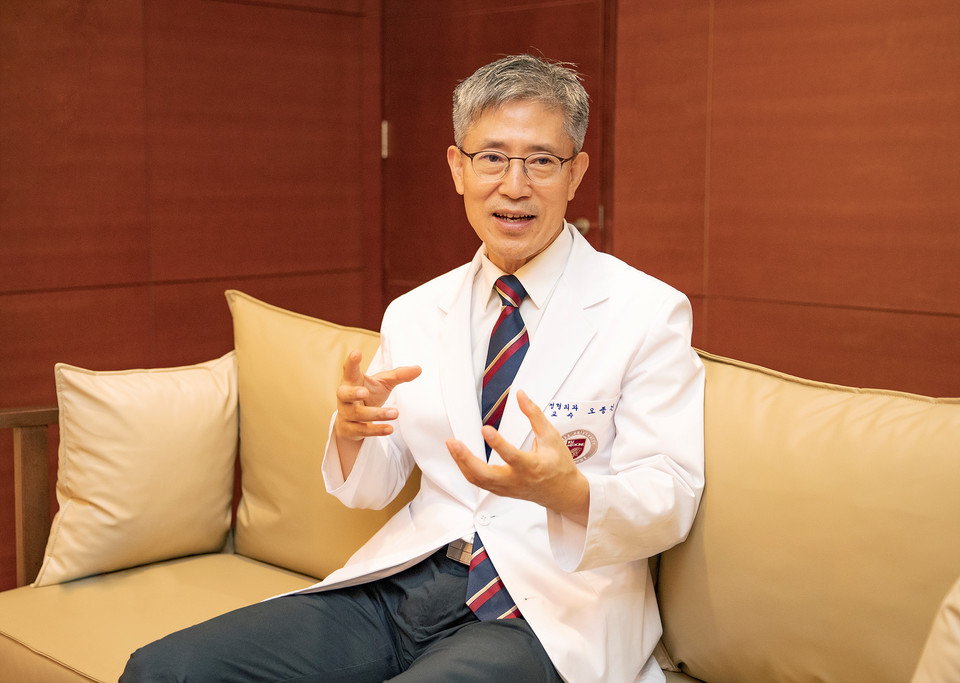 The orthopedist -- Professor Oh Jong-keon of Korea University Guro Hospital (KUGH) -- aims to foster next-generation surgeons. And that explains why Professor Oh took up the chairmanship of AO Trauma's Asia-Pacific Education Committee this past July.
"I am a surgeon and educator. However, I had come to think that serving as an administrator would help realize my goal," Oh said.
In Korea, however, trauma centers are experiencing a serious workforce shortage like most other departments of surgeries. The shortage is due to long, intensive training, highly stressful workload, and difficulties maintaining work-life balance.
"Frankly speaking, it's all about the money in the end," Professor Oh said in a recent interview with Korea Biomedical Review. "In the United States, there are quite many orthopedists, not least because they receive treatments according to the intensity and difficulty of treatments. But, unfortunately, that is not the case in this country."
Professor Oh said that many surgeons find it difficult to take orthopedics as a lifetime job because of the low quality of life facing orthopedists.
Oh, who has been performing operations as a trauma surgeon over the past 23 years, looked back when he was an intern and resident.
"Orthopedic surgery was the most interesting operation during my training, and if someone asks other male surgeons, they would probably answer the same," Oh said. "Orthopedic surgeons are like carpenters as they use hammers, saws, intramedullary nails, drills, during the surgery. Most young men like handling, or playing with, such tools, don't they?"
Oh said that he chose to specialize in bone fracture repair as it produced clear outcomes depending on how well the surgery went, unlike other operations. For instance, the results of ligament surgeries are not always predictable, even if good surgeons conducted the operation.
Goals as chairperson of AO Trauma Asia-Pacific Education Committee
In the bone fracture area, too, the number of patients who developed complications over time after receiving surgery is gradually increasing.
So if the one-person treatment is the first stage, the second stage is to foster students into experts. The third stage is to improve the quality of such education to turn out as many excellent surgeons as possible, Professor Oh said.
"Doctors cannot attach bones, but they create an environment in which bones are put together well. In other words, we intervene in the bone-attaching process to prevent them from sticking to each other crookedly," he said.
Surgery harms the human body, and the subsequent damage is called surgical damage. The process of cutting the flesh, pulling the muscles, holding it with a stick, and drilling a hole through the plate, is a tremendous trauma for patients.
Oh explained that one of the situations that cause poor surgical outcomes occurs when the patients are seriously injured. Surgeries could not go well if the injury exceeded the medical limit of damage to be treated. In that case, surgeons have to amputate the injured area or perform joint fusion surgery to save the damaged part.
Another reason for bad outcomes in surgeries is a technical failure. Sometimes surgeons fail to reach the intended goal even after following the principle. The public needs to show some tolerance for technical failure because no surgeons will perform surgeries if they don't.
However, the most unfortunate case occurs when surgeons do their best but cannot follow the principles because they have not received trauma surgery education properly.
"That's why I focus on educating and fostering next-generation orthopedists," Professor Oh said.
Nonunion and osteomyelitis in rare fracture
Currently gripping Professor Oh's interests is the "nonunion," and he is producing results by treating it using bone morphogenetic protein (BMP).
When a bone breaks, the blood vessels also get cut off. This is because bones have space inside bone marrow, and blood flows through the periosteum surrounding the bone's periphery.
"The mysterious thing about the human body is that the blood supply to the periosteum increases if a bone breaks," Oh said. "The blood produced around the fracture coagulates, resulting in the formation of a hematoma into fragments and eventually turning into bone, which makes the attached bones thicker than before."
Surgeons have to align the bones during surgery, but if the periosteum of a live fragment is removed, the bones will not stick well during recovery. Conversely, the bone does not stick together if surgeons remove the periosteum, and a nonunion occurs, Oh said.
Nonunion also occurs due to devitalization when doctors try to align the bones as best as possible. The femur and tibia are the most common area for bone fractures. While the femur is surrounded by a chunk of muscle and receives a good blood supply, the tibia is triangular when cut open. As a result, only muscles from the two sides support the bone, so many nonunions occur on the tibia.
Sometimes, patients carry bacteria in their tibia, and methicillin-resistant staphylococcus aureus (MRSA) is the most common. If the fractured bones are not healed well and the bacteria spread, patients could develop osteomyelitis.
Osteomyelitis is rare unless the patient has open fractures. However, as with all surgeries, there is always a risk of infection when the skin is cut open.
"There is also a guideline to use antibiotics if the surgical intervention takes longer than three hours," Oh said. "What surgeons want in such a situation is to align the bones as best as possible without leaving the fragments, which is state of the art in orthopedic surgeries."
"I am most interested in infected nonunion for now, especially about osteomyelitis. I would love to help patients who did not have an infection but have undergone multiple surgeries due to nonunion," Oh said. "It is more rewarding than proud doing that job."
Roughly half of the patients with osteomyelitis who come to orthopedists seem to require leg amputation. The recurrence rate of osteomyelitis after fracture surgery is about 25 percent. The surgery for osteomyelitis is challenging, and it requires prolonged training in trauma, he added.
Introducing new materials in bone transplants
Oh has also helped develop new materials used in bone transplantation.
After receiving a research grant from the Ministry of Trade, Industry and Energy, Oh and his research team conducted studies with a Korean company and accomplished considerable outcomes.
The company successfully developed BMP to replace autologous bone transplantation for those who require bone transplantation. After registering with the Ministry of Food and Drug Safety, the company and the research team began the study.
So far, the study showed a 100 percent realignment of the bone, and we expect the promising results to serve as the groundwork for the food and drug safety ministry to allow further studies.
"I am very proud that our homegrown surgery for periarticular fractures have been officially recognized in the U.S. and also received an award as the leading trauma surgeon from the American Academy of Orthopaedic Surgeons," Oh said. "We will continue to focus on research and education for the excellence of Korean medicine and develop trauma care."
Stressing that the treatment of nonunion without removing patients' bonds but using BMP is a "cutting-edge technology" that foreign surgeons would not, or cannot, tackle, Professor Oh said he would welcome patients from abroad in that regard.
Copyright © KBR Unauthorized reproduction, redistribution prohibited