CHICAGO, Ill. -- By Shim Hyun-tai/Korea Biomedical Review correspondent - The 2021 Radiological Society of North America (RSNA 2021) successfully finished its five day-run at the McCormick Place Convention Center last Thursday, with global companies, including Korean firms, demonstrating the latest technologies touting new products.
Hundreds of exhibitors secured their space at RSNA 2021, interacting with experts, grabbing opportunities to introduce products, sharing innovations in AI solutions, and presenting the future of medical imaging and AI.
Although the number of professional participants declined from pre-pandemic years, the expo floor bustled as vendors had more focused interactions with visitors.
Among the hundreds of sellers who participated in the convention, some big global companies specializing in medical imaging and information technologies stood out, highlighting and launching their new products with broad expertise in their solution services.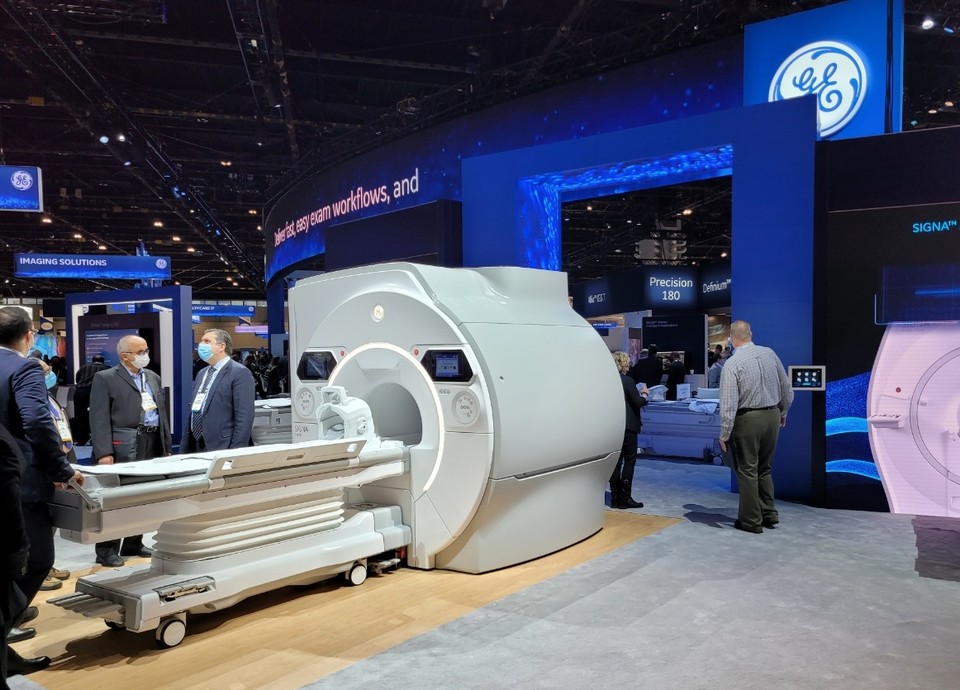 For instance, GE Healthcare, which took up the largest space at the North Hall of McCormick Place Convention Center, showcased its new SIGNA Hero, a new 3.0 tesla (T) magnetic resonance imaging (MRI) machine in honor of all healthcare workers, with new technologies at the RSNA 2021.
SIGNA Hero can help health providers with AI and analytics to boost efficiency and productivity on the health systems managing high volumes of Covid-19 patients combined with backlogged non-urgent care.
The new 3.0T MRI system offers new workflows and AIR Recon DL enhancements designed to help practitioners address some of today's most pressing healthcare needs.
AIR Recon DL, GE Healthcare's pioneering deep learning image reconstruction technology, offers clinicians up to 50 percent reduction in time required for the examination.
GE Healthcare's new MRI system is waiting to receive clearance from the U.S. Food and Drug Administration (FDA).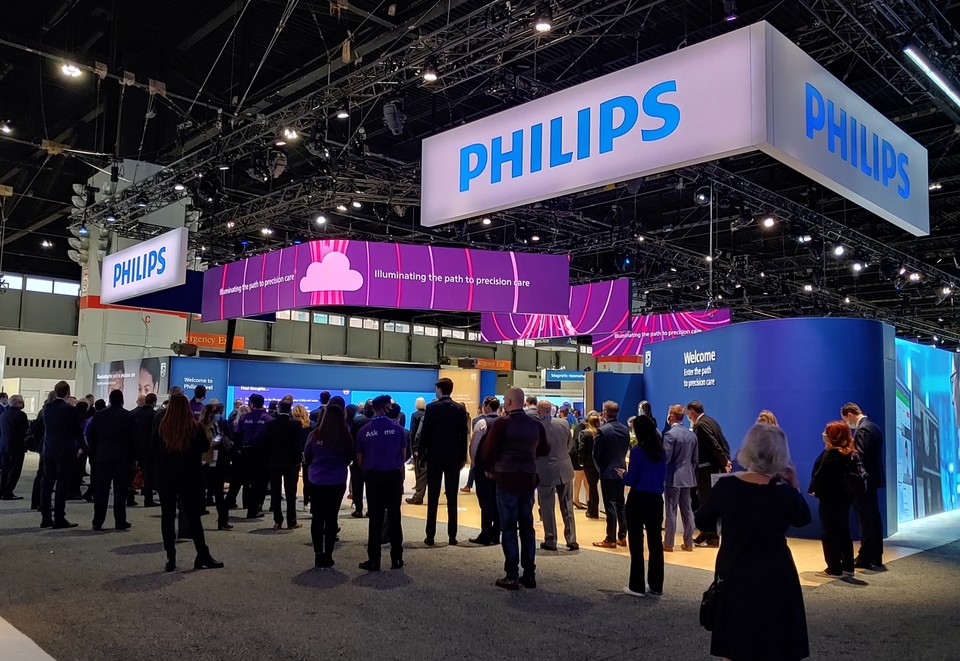 Philips also displayed new addition, CT 5100 Incisive, to its computed tomography (CT) portfolio with CT Smart Workflow that offers artificial intelligence (AI)-powered capabilities to speed up workflows, enhance diagnostics, and maximize equipment up-time.
CT 5100 Incisive also improves the workflow with various functions, such as easy positioning of the patient or reconstructing the image.
On a technological level, the company unveiled significant advances, including the recent 1.5 teslas (T) helium-free MR 5300 and the new MR 7700 3.0T system, to deliver excellent MRI for neurology. The machines automate time-consuming tasks for radiologists and technicians and offer operator consistency and diagnostic confidence at the point of image acquisition.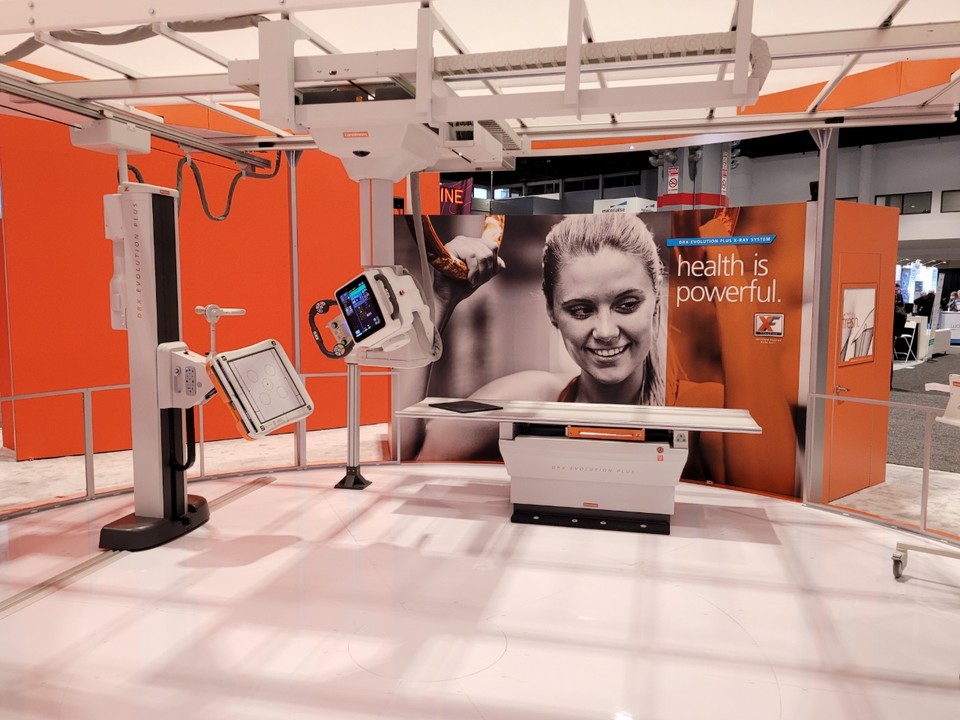 Carestream, a company dedicated to digital radiography solutions, highlighted enhancements to its premium X-ray system, the DRX-Evolution Plus, which meets the high-volume imaging needs of large hospitals, clinics, and urgent care centers.
New features include a smaller tubehead profile with a larger display, helping radiologists to examine with better visibility. In addition, an upgraded tabletop provides more range and provides a more comfortable examination for patients.
Targeting mid-tier hospitals and imaging centers, Carestream showed its more affordable DRX-Compass X-ray System at RSNA 2021. It delivers an innovative, flexible, and efficient medical imaging solution to sites that cannot accommodate an overhead tube crane.
Carestream also featured advanced medical imaging detectors that improve provider workflow and increase patient comfort. For example, the new Lux 35 Detector is a lightweight, glass-free, wireless detector redesigned with ergonomic features for less strain and stress on practitioners.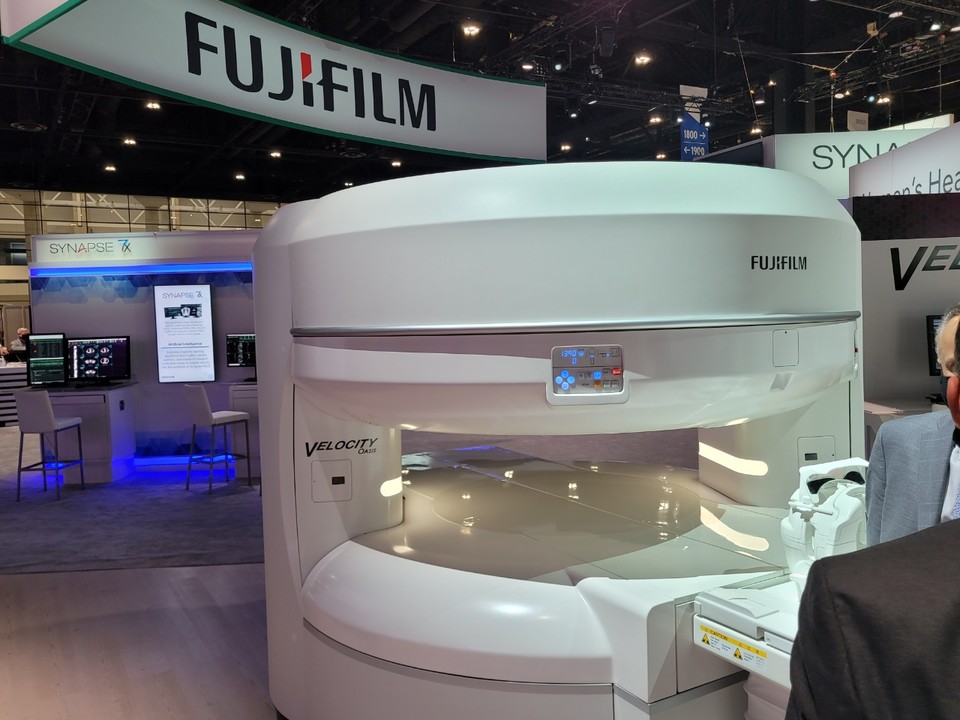 Another digital imaging giant, Fujifilm Healthcare, launched its Velocity MRI machine, an advanced and high-field open MRI system. The company first showcased the new MRI system at the convention.
The Velocity MRI system is Fujifilm's newest MRI scanner, designed to streamline workflow and enhance the patient experience with its open gantry, integrated radiofrequency (RF) coils, and reconstruction technologies.
The scanner's open gantry provides a spacious feeling for patients undergoing exams while delivering outstanding image quality with short exam times. The wide table can hold patients up to 660 pounds and allow left and right movement with multiple coil connectors for easy patient positioning.
Along with introducing a new MRI scanner, the company also displayed digital radiography with the introduction of the FDR D-EVO III G80i, CT with the SCENARIA View, advancements in Fluoroscopy with new product launches for the Persona CS, Ultrasound for guidance and diagnostics with the ARIETTA models.
Copyright © KBR Unauthorized reproduction, redistribution prohibited