CHICAGO, Ill. -- By Shim Hyun-tai/Korea Biomedical Review correspondent - Lunit, a medical AI solution developer, plans to focus more on the U.S. market next year, starting with its deep learning-based software that recently received clearance from the U.S. Food and Drug Administration.
The company has showcased two software that obtained FDA clearance and two new products at the Radiological Society of North America (RSNA) 2021 in Chicago, Ill.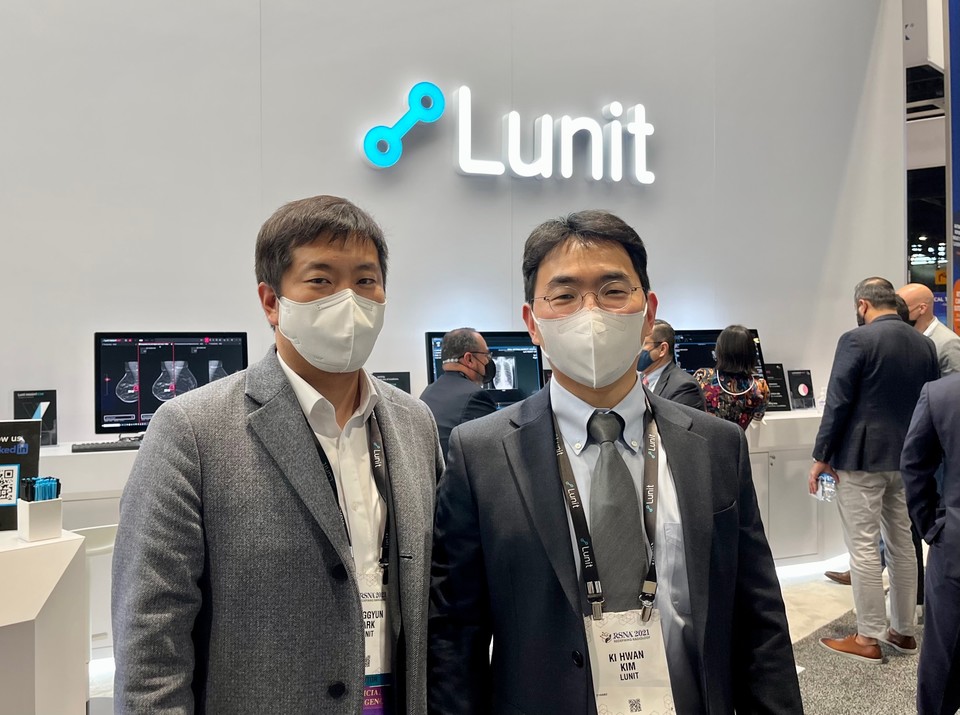 "I think we should focus more on the regions where our products have received approval for marketing at this moment," Lunit's Chief Marketing Officer (CMO) Kim Ki-hwan said in an interview with Korea Biomedical Review on Tuesday. "Our two software solutions have recently won FDA clearance in the U.S., so we are considering concentrating on the U.S. market a little more from next year."
The two FDA-cleared software solutions are Lunit INSIGHT CXR Triage and Lunit INSIGHT MMG. Lunit INSIGHT CXR Triage is a solution that automatically classifies normal and critical findings, and Lunit INSIGHT MMG analyzes mammography images with high accuracy.
"Winning FDA clearance for Lunit INSIGHT CXR Triage before other products was part of our strategy," Chief Product Officer (CPO) Park Sung-gyun said in the same interview. "As Lunit INSIGHT CXR has many detectable abnormal findings, we thought it would take a long time to complete all the clinical trials required to verify for all findings, so we decided to go for Lunit INSIGHT CXR Triage first."
Lunit INSIGHT CXR Triage and Lunit INSIGHT MMG are the first homegrown medical AI software to receive the U.S. regulator's clearance.
"FDA conducted a very strict review on the products, and I believe it was because there are far more medical AI vendors in the U.S. than in Korea," Park said. "The agency tends to be more conservative and tries to be rigorous on the review, taking more time for the procedure."
According to Park, it took Lunit more than two years to win the go-ahead, including the pre-submission stage. However, the FDA has a well-established pre-submission system that allows companies to get feedback in advance of the formal application.
The FDA's pre-submission is a way for companies to request feedback from the agency on potential and planned medical devices, biologics, and drug submissions.
However, Park acknowledged that submitting approval requests to the FDA is still a risky game. There are cases where companies could not fix flaws found after the submission even when they met the requirements by going through the pre-submission.
Before Lunit won FDA clearance for its radiology AI software recently, the company had conducted clinical studies and received approval at one try.
CMO Kim explained that Lunit conducted clinical trials in Korea, gained approval from the Ministry of Food and Drug Safety (MFDS), and later acquired the Conformite Europeenne (CE) certificate.
He added the company has been building relationships with important researchers in various European countries based on the CE marking and led them to conduct clinical trials until recently.
"In the U.S., hospitals with different sizes seem to have differentiated characteristics," Kim said. "From clinics to university hospitals, each of them has different needs, so we are discussing how to target the institutions with our local partners."
Lunit is also showcasing its new software for breast-chest CT and breast imaging during the RSNA 2021.
Lunit INSIGHT Chest CT is new software that automatically generates the location, type, volume, and axial diameter of detected nodules, and Lunit INSIGHT DBT displays images at high speed. Both solutions provide three-dimensional (3D) images to assist rapid and accurate reading.
CPO Park said that Lunit's interest in imaging extended from 2D to 3D images, not widening the modalities. The company always wanted to focus on further developing software for chest and breast.
"We will continue to dig deeper, searching for rooms for improvement in our AI solutions for chest and breast even after listing on the Kosdaq market in the future, but we may consider widening modalities if necessary," Kim said. "We plan to proceed after researching our candidate initiatives, testing them in-depth, and move on after confirming whether they would work or not."
Copyright © KBR Unauthorized reproduction, redistribution prohibited