Migrants showed a high suicide rate in Korea, already notorious for having the highest suicide rate among OECD members.
WeFriends, also known as the Migrant Health Association in Korea, surveyed 102 Nepali, Chinese, and Burmese migrant workers at high suicide risk to learn their mental health status and perception of depression and suicide.
More than half of the respondents needed specialists' counseling, the migrants' rights group said on Wednesday.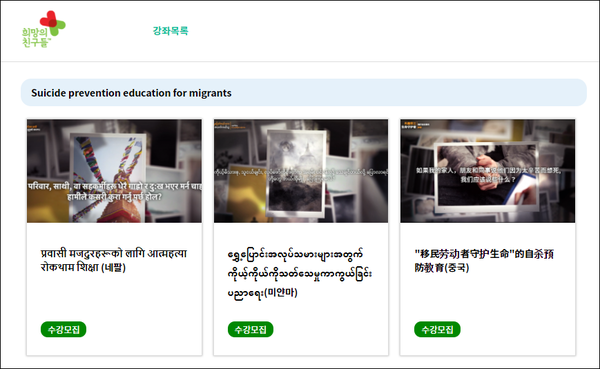 Out of the 102 workers, 34 (33.4 percent) showed mild or more serious depression, and 21 (20.6 percent), moderate depression.
Ethnic Koreans from China and other migrant workers complained that they suffered from severe economic difficulties due to reduced wages or lost jobs amid the Covid-19 pandemic, WeFriends said.
Even though many are anxious or depressed, they find it difficult to request external counseling or support because they fear being stigmatized.
WeFriends said it ran a program to prevent migrants' suicide. The group collaborated with suicide prevention centers in Seoul and Gyeonggi Province, where migrant workers are concentrated and set up suicide prevention support measures.
The migrants advocate group provides training for counseling on suicide prevention for migrant workers and online "gatekeeper" education in Chinese, Nepali, Burmese, and Korean.
Marking the 18th World Suicide Prevention Day on Sept. 10, the group also runs an online suicide prevention campaign, "SAVE YOURSELF! SAVE LIVES!".
WeFriends Secretary-General Lee Ae-ran, handling the suicide prevention program, criticized the government for not supporting migrant workers in the Korean mental health welfare system.
"We urgently need counseling for migrants at high suicide risk in multiple languages," she said. "In our society, there should be more actions to prevent migrants from suicide."
Kim Hyun-soo, head of the Seoul Metropolitan Government Suicide Prevention Center, a psychiatrist at Myongji Hospital, said various studies have already confirmed that stress from coping with a new society could significantly affect migrants' mental health.
"The mental health crisis in migrants in Korea resulted from many factors such as the labor system, unstable stay, and no supportive family around," he said. "As the pandemic prolonged, Korea should pay more attention to vulnerable migrants and prepare a policy to prevent their suicide."
WeFriends has been running the suicide prevention program for migrants under the support of Hyundai Motor Group and the Community Chest of Korea since 2020.
Copyright © KBR Unauthorized reproduction, redistribution prohibited