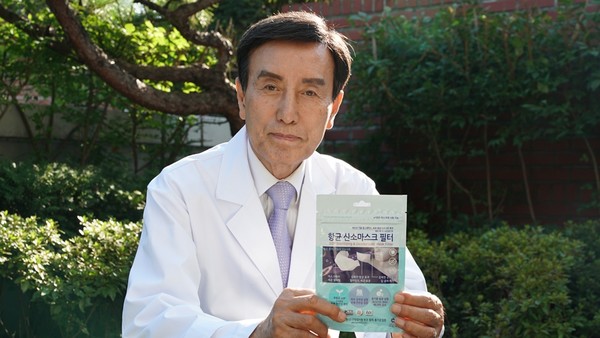 Dr. Roh Man-kyun, a chemical engineer who once worked at NASA, has a wife as famous as him -- Yang Seung-hee, a gayageum (Korean zither with 12 strings) player and a human cultural asset.
Yang had a health problem once. She felt headache and difficulty in breathing when she sat down for hours to play gayageum. She got better in the countryside.
Roh found the difference was the air between urban and rural areas. His wife was responding to the subtle difference of air more sensitively than others. Roh's solution: A necklace with a pendant – composed of solid oxygen compressed into a small plate on which a computer cooler filter was attached.
His wife showed a good response to it. One day, Yang took a taxi wearing the necklace. The taxi driver asked about the pendant, and so she handed it over to him with an explanation. The cabbie said it smelled like perfume. Actually, it was just the odor of purified air. Yang proposed her husband to turn it into a business, and he followed her advice.
In 2015, Roh founded Elstech, a maker of solid oxygen products.
Solid oxygen was initially developed and used as astronauts' breathing devices. Previously, most of the technology was designed for specific purposes, including astronauts, submarines, military use, and coal mines. The beginning of the development of solid oxygen started while Roh worked for the Agency for Defense Development and was involved in NASA and the Naval Surface Warfare Center's (NSWC) project between 1991 and 1993.
"Most people aged 50 or older may remember the Space Shuttle Challenger's disaster in 1986 due to problematic solid-fuel propellant. The project was to find a way to cool down and control heat caused by bipropellant thruster," Roh said.
Elstech is the first company in Korea to apply a safer technology to real-life products such as purifier filters.
"Solid oxygen product works quite similar to the photosynthesis reaction of plants," Roh said in a recent interview with Korea Biomedical Review. "When animals breathe, they emit carbon dioxide, and plants use the carbon dioxide in the air for photosynthesis and release oxygen. Some plants, such as maidenhair trees, produce and release antibiotic material and protect themselves from insects and bacteria during the process."
Solid oxygen removes carbon dioxide, generates oxygen, induces antibacterial reactions, and reduces odor. He believed these outcomes could improve people's health and the environment, which led him to apply the technology to daily life goods.
However, the previous technological use of potassium-based components for solid oxygen carried risky factors, such as rapid oxidation. Past studies predicted that using a potassium-based substance in solid oxygen products would fail due to strong reactivity.
"However, I developed a safer new method relatively easily because I found particular catalysts that could get rid of such risk.
A certain chemical substance, which Roh said he could not reveal as it is a trade secret, slow down the chemical reaction that converts and generates oxygen and prevents rapid oxidation. Elstech experienced few difficulties filing for a patent, as CEO Roh's studies had already shown positive results at various experiments for years.
Covid-19 and importance of air purification
Upon the outbreak of the Covid-19 pandemic in Korea in January 2020, the government ordered schools to turn off air conditioners in school rooms to prevent the spread of the coronavirus.
In Korea, air purifiers should use a one-pass antibacterial filter to block and remove bacteria and viruses. To be recognized as air purifiers, a product should circulate the air six times an hour in the space of 20 cubic meters. It requires a filter that can maintain antiviral function during the six times of ventilation.
"We also had to consider using the danger of using ozone as even one part per million (ppm) of ozone can have a harmful effect on humans, although it can kill the coronavirus," Roh said. "In the studies we have conducted, we confirmed that our solid oxygen technology showed 98.5 percent one-pass antiviral efficacy."
Roh added his company received the technological award from the Seoul Institute of Technology for its solid oxygen mask sheet applied with the one-pass antibacterial technology.
The solid oxygen technology could also be applied to various other filters used for automobiles, air purifiers, and air conditioners.
The company discussed with Hyundai Motors to add solid oxygen filters to some of the automaker's vehicle models and performed a pilot driving in early April.
Roh also revealed that a second vendor of Hyundai Motors vehicles in China showed a great interest in solid oxygen technology and suggested a business inserting the filter into its air ventilation system. He further explained that the vendor is even considering investing in Elstech.
Elstech also plans to advance its products to India as Hyundai Motors' parts vendor in the South Asian country has suggested applying the solid oxygen technology to the air ventilation system of its i-20 vehicle model.
Going back to solid oxygen sheets for air masks, CEO Roh said it could further help prevent the virus from growing in the inner space of the mask.
Roh noted that face masks cannot prevent all particles from entering inside, and people repeat taking them on and off for various reasons, which significantly lower masks' preventive efficacy. The inner side of the masks also has an ideal environment for bacteria to grow, and even if a small number of viruses infiltrate the mask, it could multiply rapidly, he added.
"Our solid oxygen pad's antibacterial activity prevents this," Roh said.
Elstech made two shipments of its solid oxygen sheets to the U.S. in the early phase. It began to export the product in earnest to Japan by shipping 2,500 sets to the neighboring country through cloud funding platforms, Makuake and Wadiz.
Elstech plans to expand its connection to the medical field.
Roh said his company applied solid oxygen technology to bed sore pads and pillows used at nursing facilities and hospitals. It alleviates bedsores by providing a cool pad to patients and antibacterial effect. These products are water-proof against sweat and moisture, which also has improved ease of use.
The company will keep upgrading its existing technology to improve the effectiveness of medical products and manufacture them at a lower cost. The company is also trying to provide low-cost, high-quality solid oxygen products to the public by applying the technology to various everyday items, including antibacterial sanitary pads.
"I believe the public will be looking for a lot of antibacterial products in the post-Covid-19 era as we have experienced how significant it is to prevent infection, which has inspired us to expect a positive outlook for the future solid oxygen business," Roh said.
Copyright © KBR Unauthorized reproduction, redistribution prohibited