Samsung Electronics Vice Chairman Lee Jae-yong, the imprisoned de facto leader of Samsung Group who underwent surgery for appendicitis, reportedly had to remove part of his large intestine due to necrosis.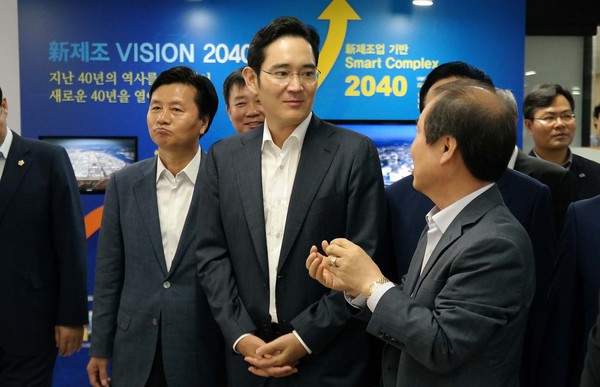 According to medical and business communities, Lee was transferred from the detention center to Samsung Medical Center and received appendicitis surgery last Friday. Earlier, the medical staff at the prison diagnosed him with appendicitis and recommended he receive medical treatment.
Still, Lee postponed his visits to the hospital, saying he did not want to give the impression of receiving special treatment, they said.
However, the correctional officials saw Lee suffer from severe adnominal pain and strongly recommended he receive treatment outside of the prison. At first, Lee was transferred to Hallym University Sacred Heart Hospital, the Justice Ministry's designated medical institution.
After confirming that foreign substances in Lee's appendix had spread into his peritoneum, the medical staff of Hallym University Sacred Heart Hospital concluded that Lee's condition was serious and decided to transfer him to Samsung Medical Center.
Appendicitis causes severe pain in the right side of the stomach. If the appendix at the end of the appendix bursts, foreign objects can spread to the peritoneum and spread to peritonitis.
When Lee arrived at the hospital, the SMC staff confirmed that alien substances in the appendix had spread widely into his peritoneum. As a result, physicians had to remove part of Lee's large intestine due to necrosis.
According to local reports, Lee is stable but still has a fever over 38 degrees.
After Lee's surgery, the Seoul Central District Court has delayed Lee's trial as he needs treatment for about three weeks due to concerns about complications.
Lee is currently under trial on charges of unfair trading, stock manipulation, and breach of trust concerning the 2015 merger between Cheil Industries and Samsung C&T, seen as a key step toward his succession. Lee is also allegedly involved in Samsung Biologics' accounting fraud case.
Copyright © KBR Unauthorized reproduction, redistribution prohibited