A liver cancer patient has demanded the government allows reimbursement for using Tecentriq (ingredient: atezolizumab) on Cheong Wa Dae's petition website.
Tecentriq is the only immunotherapy that proved survival benefits compared to sorafenib, the first-line standard of care for advanced hepatocellular carcinoma (HCC).
The petitioner said he or she was in the 50s fighting HCC for the second year. The petitioner posted the request on Feb. 10 and has won 459 online signatures as of Wednesday.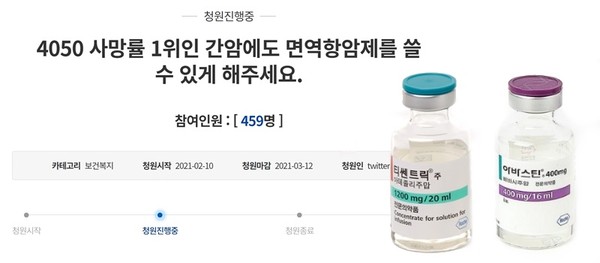 The petitioner introduced himself or herself as a patient who has undergone transarterial chemoembolization (TACE) but is soon to receive chemotherapy due to disease progression.
"Unlike other types of cancer, liver cancer has rare anticancer treatment options," the petitioner said. "Even if I can't use it, I hope the government could support the use of immunotherapy so that other liver cancer patients do not end their lives despite the chance of survival."
Anticipation for the Tecentriq and Avastin combination therapy shows how much liver cancer patients have had therapeutic limitations. Government data on registered cancer patients show that liver cancer's five-year survival rate is 37 percent, which is only half that of other carcinomas on average at 70.3 percent. It means that liver cancer treatment prognosis is very poor. The survival rate of liver cancer patients considering chemotherapy due to distant metastasis is as low as 2.8 percent.
Korea introduced sorafenib 10 years ago because it produced better survival results compared to cytotoxic chemotherapy. Although sorafenib is used as the first-line standard treatment for HCC, an unmet medical need remains due to the agent's limited efficacy and side effects such as hand-foot syndrome.
"Unlike other general carcinomas, HCC requires an additional task of protecting liver function along with chemotherapy, so treatment is much more difficult, and the prognosis is poor," said Professor Jang Jeong-won of the Gastroenterology Department at the Seoul St. Mary's Hospital. "Existing target therapies have side effects such as hand-foot syndrome, diarrhea, high blood pressure, and proteinuria, lowering the quality of life, or they show insufficient effects."
After sorafenib, lenvatinib has been introduced as an additional first-line treatment option. However, lenvatinib has failed to show better survival rates compared to sorafenib. The Tecentriq-Avastin combo therapy is known to have solved such a problem, experts said.
"Tecentriq plus Avastin treatment improved first-line therapeutic effect significantly compared to the conventional therapy. If the patient has a good liver function, there is no reason not to use it," Jang emphasized.
In the phase-3 IMbrave 150 study, the Tecentriq-Avastin combo lowered the mortality risk by 42 percent and the risk of disease progression and death by 41 percent, compared to the sorafenib monotherapy.
The new data updated in January showed that the combo's median overall survival (MOS) stood at 19.2 months, which was 5.8 months longer than 13.4 months of sorafenib. The 19.2 months was the record-long OS in the first-line treatment of HCC.
In addition to survival, clinicians anticipate that the Tecentriq-Avastin combo could improve response rates and quality of life. The IMbrave 150 results demonstrated that the combo's objective response rate (ORR) was 33.2 percent at maximum, which was 2.5 times higher than that of sorafenib alone. The combo also maintained the quality of life, directly evaluated by patients, three folds longer than sorafenib alone.
Despite such clinical evidence, the Tecentriq-Avastin therapy's high cost makes it difficult for patients to use it, Jang said. Just as advanced nations did, the Korean government should promptly grant reimbursement for Tecentriq so that local HCC patients facing the first-line chemotherapy could receive Tecentriq-Avastin combo, a better treatment opportunity, he added.
Copyright © KBR Unauthorized reproduction, redistribution prohibited