The Covid-19 outbreak took a heavy toll on Korean correctional facilities, mostly overcrowded with poor healthcare services.
A Tuesday report of nine new cases at the Seoul Nambu Correctional Facility added worries that it could be another version of the recent massive cluster infection at the Seoul Dongbu Detention Center.
The National Human Rights Commission asked the government to expand healthcare services, saying inmates need access to the universal level of healthcare services.
However, doctors working at correctional facilities said it was easier said than done because prisons are different from other general medical institutions.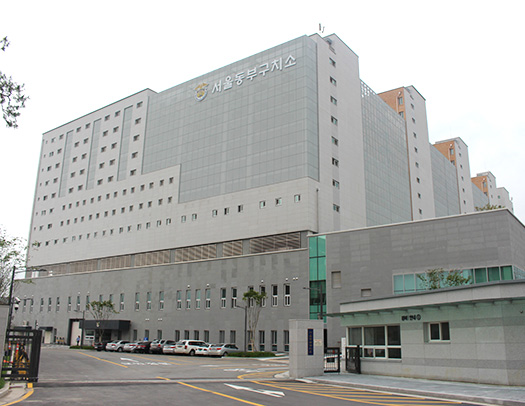 Yoon Dong-gyu, an intern at Ulsan National University Hospital, who worked as a public health doctor at a prison, said it was not easy to distinguish between a sick patient and a fake one among patients flooding in. He once saw 200 inmates a day and "cured a paralyzed person with a single pinch."
According to the Justice Ministry's 2020 Statistical Correction Yearbook, the demand for medical care at prisons has steadily risen in the past decade.
The number of treatments (drug administration, surgery, therapy, and counseling) conducted at correctional facilities nearly doubled from 5.32 million in 2010 to 9.18 million in 2019.
However, healthcare professionals at correctional facilities are extremely short.
In the past 10 years, no prison has ever filled the full number of medical officers. This is why 50 to 60 public health doctors are playing an important role in correctional facilities.
Due to poor healthcare infrastructure, many prisons have no choice but to send patients to external medical institutions. Even this might not be easy due to the shortage of medical staff.
If a patient has to see a doctor outside the prison, at least three officials should accompany the sick prisoner. If the inmate gets hospitalized, the patient needs 24-hour monitoring in three shifts.
The number of prisoners who received medical care outside the prison rose about 45 percent from 27,525 in 2010 to 39,824 in 2019.
The 2018 survey by the Korea Correctional Service (KCS) on prisoners at 52 correctional institutions showed that 16 percent of inmates could not get permission for external medical treatment. In many cases, they had to wait for two or three weeks for treatment outside the prison unless it was an emergency.
Under such circumstances, doctors at correctional facilities should prioritize urgent patients and go through arguments with other employees sometimes.
"Like obstetrics/gynecology, there are many cases where we have to let a prisoner get outside treatment. Since the manpower for monitoring the prisoner is limited, other emergency patients may not be able to get external treatment if a patient goes outside for obstetrics/gynecology care," Yoon said.
"Some employees complained that they couldn't work properly if a prisoner gets outside for treatment. They asked me to stop sending prisoners outside for medical care."
Some propose building 'medical prison' as alternative
Due to overcrowding, the correctional authorities raised opinions that they could establish a correctional hospital and concentrate manpower for healthcare and correction services. The U.S., Germany, and Japan have already introduced such a system and are operating it.
The Justice Ministry announced on Jan. 20 that it would set up a medical prison that can treat patients with infectious diseases. The ministry also said that it would increase the number of healthcare professionals and security officers at correctional facilities.
One medical officer at a correctional facility said American correctional hospitals are equipped with good facilities, and sick inmates are sent there.
"Korea needs a correctional hospital in the long term. There are cancer patients in prisons, but they have to go outside to get treatment and accompany monitoring workers. Such things are unnecessary if we have a correctional hospital," he said.
Others said establishing a correctional hospital was an unrealistic idea.
Kwon Soo-jin, a researcher at the Korea Legislation Research Institute, said a medical prison requires an operation at a general hospital level. Still, it will face problems in budget and manpower.
"It is already difficult to establish a correctional facility due to resistance from the local community. So, it will be difficult to establish a medical prison," she said.
Rather than setting up a new medical prison, making a correctional ward outside an existing medical institution will be more realistic and effective, she went on to say.
If the government installs a correctional ward in a public medical institution so that inmates can get hospitalization treatment and surgery, inmates can get specialists' medical care, Kwon said. Then, the correctional facility could minimize the number of personnel monitoring the prisoners during treatment outside the facility, she added.
"This way, a state-run medical institution can secure fixed income by offering hospitalization and treatment services to prisoner patients," she said.
Yoon also said that it would be more realistic to use outside cooperative medical institutions to meet prisoners' rising medical demand.
"Even if we can build a correctional hospital, I wonder it could be operated by medical staff properly," he said. "It is difficult to find people who will work as medical officers there, and, likely, managers and supervisors will not be medical professionals."
Control tower needs to include medical experts
To improve the medical care environment at correctional facilities, the nation needs a control tower that includes medical professionals, observers said.
Healthcare in correctional facilities is supervised by the medical department of the security policy team at the KCS. The medical environment for each correctional facility depends on the director's operating policy. Therefore, it is necessary to establish a control tower that integrates medical officers of correctional facilities nationwide, establish medical policy, and a system to respond to infectious diseases, experts said.
"In the Covid-19 situation, not just one part but all are connected -- such as organizational problems and medical officers in correctional facilities." One medical officer said, "We need a control tower to promote relations between correctional facilities and the KCS, and the control tower has to include medical professionals."
Copyright © KBR Unauthorized reproduction, redistribution prohibited