"I'm confident that we can boost our sales by more than three folds this year. Also, we will enter Europe this year, after the U.S., to solidify our presence as a global company."
Jung Hong, chief technology officer of HDXWILL, a dental imaging system company, made this and other remarks at a recent interview with Korea Biomedical Review.
HDXWILL, a subsidiary of medical device maker HDX, develops and produces dental 3D radiation equipment CBCT (cone beam computed tomography), panoramic shooting equipment, and diagnostic software for dental medicine.
Despite the company's small size, Jung was confident that the company was armed with a globally competitive product lineup.
HDXWILL showcased the new CBCT "ECO-X" using AI in January 2020. In December, it released an oral scanner, "RealArch."
Previously, only three companies in the world developed and produced both oral scanners and CBCT -- Dentsply Sirona in Germany, Carestream Health in the U.S., and Planmeca in Finland. Now, HDXWILL has joined.
Taking a step further, HDXWILL is speeding up efforts to realize "digital dentistry," the new dental medicine trend.
Digital dentistry refers to treatment optimized for individual patient conditions by digitizing all information related to the patient's oral conditions.
The company is continuing its attempts to combine its own AI algorithm with its CBCT and oral.
Korea Biomedical Review has met with Jung to learn the company's business strategies and achievements.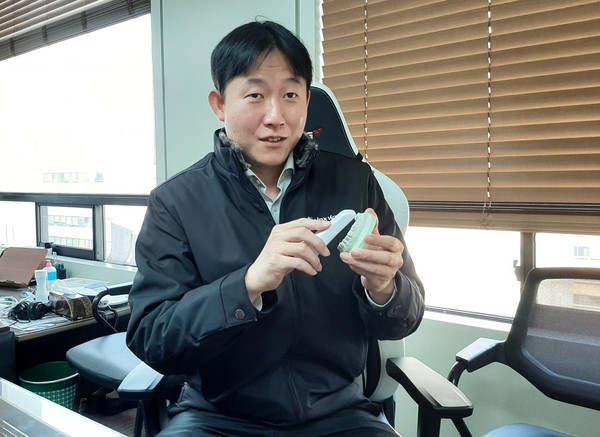 Question: In the healthcare sector, dental medicine introduces new technologies rapidly. The application of 3D printing technology is a typical example, but what do you think is the reason?
Answer: In dentistry, a dentist does everything from reading the diagnosis to finishing the surgery. As it encompasses the entire treatment, dentists tend to adopt the new technology quickly when necessary. Besides, Korean dentists have excellent skills being recognized at home and abroad. Plus, the fierce competition among them seems to affect the introduction of new technologies. In terms of the industry, it appears that technology competition among small and medium-sized companies is fierce as conglomerates do not participate in the game.
Q: Despite the heated competition, HDXWILL has become the nation's only company that develops and produces CBCT and oral scanners simultaneously. What are the characteristics of HDXWILL's technologies?
A: First of all, we specialize in medical imaging algorithms. So, we can implement most of the technologies that are considered important in the dental field, and I am confident to make them well. In terms of imaging, we are as good as multinational companies, and some of our technologies are better. For example, we can check the oral scanner's quality through comparison with the CBCT that took the same image.
Our oral scanner rarely has an error and distortion when compared to the CBCT image. This means that our product provided high-quality scanner images that dentists needed. Also, ECO-X, the new CBCT, which was released last year, combined various AI technologies. We allowed orthodontists to mark 50 plus feature points on the image to measure the distance or angle accurately when they make corrections and surgery plans. We made it possible to take pictures in 7 seconds. I think we are the first company to use AI technology in CBCT fully.
Q: Can you share more about HDXWILL's AI technologies?
A: Our AI technologies aim to save dentists' time and money. The Korean dentists' hand skills were so good, so there was no difficulty in manufacturing prosthetics manually until recently. However, advanced AI technologies greatly reduce the inconvenient but inevitable procedure. For example, it is possible to make a prosthesis or implant guide on the spot while watching a digital image or showing it to a patient. We refer to these changes collectively as digital dentistry. HDXWILL owns technologies optimized for realizing digital dentistry, and we are still actively conducting research.
Q: You predicted robust growth this year. You seem to have great expectations for new products, don't you?
A: Yes. The ECO-X, launched last year, produces 3D images with less radiation than panoramic shooting while improving the image quality. This was possible because we applied our own AI algorithm. These features set a record of selling 70 units in the first month of its release and ranked first in sales last year. We could continue to grow even in the unprecedented Covid-19 situation because it was the product that dentists have been waiting for. Last month, we finally rolled out an oral scanner.
Despite the early stage after the release, the product is drawing many requests for supply from dealers. Few companies would have made this achievement within a year. We leaped forward in research last year, and I hope to do so commercially this year.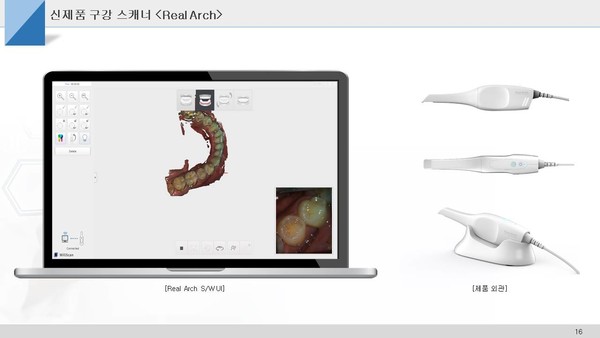 Q: Did you have any difficulties in developing an oral scanner?
A: The researchers struggled a lot. When we said we were developing an oral scanner, people said it would be impossible. Some raised doubts because it was possible only if we could combine complex hardware and precise software. They questioned whether HDXWILL, a small company, could do it when many companies have failed. Hearing these stories, even I was suspicious of the results that I created mathematically. But in the end, we were right. If we were conscious of the negative words around us and turned the development direction, we would not have reached where we are now.
Conventional oral scanners have some distortion when scanning the arch. Dentists knew this, but they accepted it as an unavoidable error. However, RealArch has very little distortion when scanning the arch. We could confirm this by comparison with the products of multinational and domestic companies. This is the reason why we named the product RealArch.
Q: To complete in the global market, pricing is the key. What's your plan for this?
A: Since we are a latecomer, we are planning "aggressive" pricing. As we have both an oral scanner and CBCT, which are essential in dentistry, we plan a package combining the two. Also, we plan to release an oral scanner incorporating a new patented technology next year. We will have a variety of product lines and shake the market with aggressive prices.
Q: HDXWILL won many orders for national projects. It is quite interesting that these national projects aim to realize digital dentistry. Can you explain more about this?
A: In the first half of last year, we were picked for the Ministry of Health and Welfare's project. In the second half, we won an order for a cross-ministerial project. Together, the two projects are worth 10 billion won. HDXWILL won these projects because HDXWILL has been devoted to automation research based on AI technology. With oral scanner production becoming possible, we faced an environment where we could apply it in clinical practice. Dental treatment automation using AI is already a global trend. However, no company has yet to realize this. So, I am confident that we will become the game-changer in the worldwide market.
Q: What are HDXWILL's short-term and long-term goals?
A: In the short term, we will promote RealArch worldwide quickly to sell it with ECO-X. In terms of performance, I predict that the sales will increase more than three folds this year. Next year, HDXWILL will be recognized as a company that owns an oral scanner and CBCT globally. So, we will focus on highlighting our strengths.
Copyright © KBR Unauthorized reproduction, redistribution prohibited